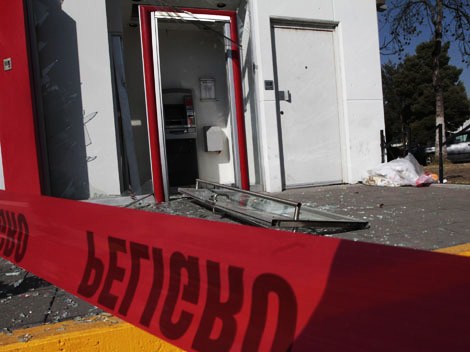 "We are all Conspiracy of Cells of Fire. The CCF is not an organization or just another group. On the contrary, it is the antagonist expression of rage and contempt in the face of Power and its structures. To grasp* what the CCF really is, all you need is petrol, matches and the desire to fight for total liberation."
CCF-Mexico/FAI
In the fragrance of the wet earth we've found the inexhaustible processes of resistance that germinate the wild flower of anarchy. In the warmth of other species we've discovered the irreducible value of each individual that denies the instituted order and breaks away from fear and inaction. In the informality we've found the pleasure of individual revolt which is spontaneously capable of transforming itself into a plague.
We claim ourselves to be violent, rabid, savages, asexual; we are Conspiracy of Cells of Fire waging social war, angry expropriators of individuality. We take responsibility for the two explosive devices that were detonated at daybreak on November 29th, 2012 in the Mexican city of Toluca; the first one at a 'Banorte' bank branch and the second one at a 'Telmex' bill payment office.
Without much more to write, we let the actions themselves be the lubricant of solidarity; we thus call for an International Direct Action Week in solidarity with the always unyielding Mario Antonio López 'Tripa' from the 15th to the 22nd of December; may solidarity among acratists be expressed in a polymorphic manner.
For a Black Christmas!
For the destruction of prison society!
Anticivilization Fraction of the Earth Liberation Front
Affine to the Informal Anarchist Federation
FA/FLT/FAI
* The FA/FLT/FAI write 'entender' (understand, grasp) instead of 'extender' (extend, spread) which appears in known versions of the same quote.