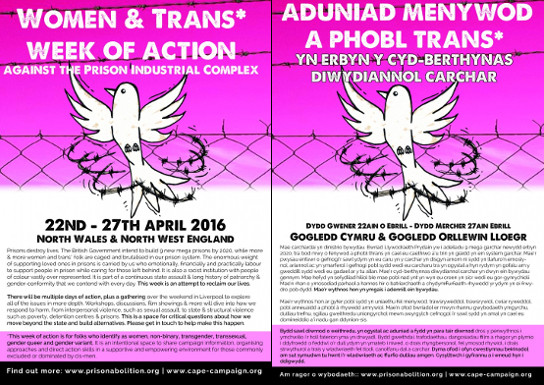 Prisons destroy lives. The British Government intend to build 9 new mega prisons by 2020, while more & more women and trans* folk are caged and brutalised in our prison system. The enormous weight of supporting loved ones in prisons is carried by us who emotionally, financially and practically labour to support people in prison while caring for those left behind. The prison industrial complex has been built on white supremacy. It is a racist institution with people of colour vastly over represented with growing racist border controls, raids & more. The prison system is part of the continuous state assault & long history of patriarchy & gender-conformity that we contend with every day.
This week is an attempt to reclaim our lives.
Click here to continue reading the call-out (also in Welsh).

*
Mae carchardai yn dinistrio bywydau. Bwriad Llywodraeth Prydain yw adeiladu 9 mega garchar newydd erbyn 2020, tra bod mwy o fenywod a phobl thrans yn cael eu caethiwo a'u trin yn giaidd yn ein system garchar. Mae'r pwysau enfawr o gefnogi'r sawl ydym yn eu caru yn y carchar yn disgyn arnom ni sydd yn llafurio'n emosiynol, ariannol ac yn ymarferol i gefnogi pobl sydd wedi eu carcharu tra yn ogystal â hyn rydym yn gofalu am y gweddill sydd wedi eu gadael ar y tu allan. Mae'r cyd-berthynnas diwydiannol carchar yn dwyn ein bywydau gennym. Mae hefyd yn sefydliad hiliol ble mae pobl nad ŷnt yn wyn eu croen yn sicr wedi eu gorgynrychioli. Mae'n rhan o ymosodiad parhaol a hanes hir o batriarchaeth a chydymffurfiaeth-rhywedd yr ydym yn ei frwydro pob dydd.
Mae'r wythnos hon yn ymgais at adennill ein bywydau.
in German