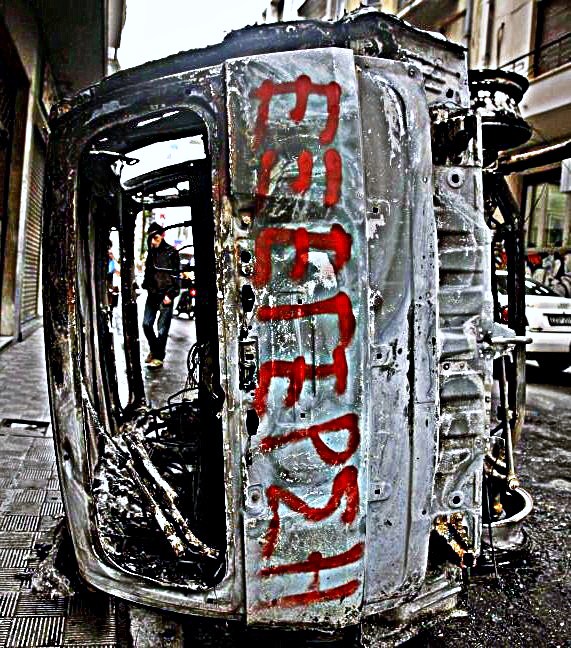 A Black December initiative of comrades from Rethymno, on the island of Crete, responded to the Black December proposal by anarchist prisoner Nikos Romanos and CCF imprisoned anarchist Panagiotis Argirou. Furthermore, wanting to revive the memories and practices of December '08, they have invited individualities and collectives from the island to communicate with each other and coordinate their actions throughout Crete.
The comrades state the following, among others:
"(…) The call for the creation of an 'informal coordination platform', which will be able to overcome the theoretical preconceptions within the insurrectionary anarchy, proposes something new in comparison to what has been proposed lately. Its informalist basis can be a fertile ground so that whoever comrade or collective choose to respond to the call can express themselves and act freely. (…)
As individualities we have noticed that, lately, the anarchist tendency tends to join forces on the occasion of 'significant events' and, unfortunately, only ends up keeping track of them. The tangible result of this is that we find ourselves unprepared, and our actions do not have the desired results.
We seek to become, all of us, the detonator of events, to create the appropriate conditions, and instead of positioning ourselves defensively against the establishment created by the State and the Capital, we choose to go on the offensive.
In Rethymno, any disruption of social regularity is a rare occurrence. Through our actions, we seek to disrupt the divine law of the Rethymnian normalcy.
This first attempt at coordination and action is framed in the context of 'Black December'. The December 2008 legacy was important for anarchy. Hundreds of squats and occupation, direct action groups, spontaneous and organised attacks, unmediated diffusion of anarchist discourse, through interventions at the mass media of domestication, is all that we retrace and wish to reintegrate into everyday practices of anarchy. (…)
For all the above reasons, purposes, actions and aspirations, we choose to stand alongside all comrades, both inside and outside the walls, who will take action in the framework of 'Black December'.
The fires of December '08 may have died down, but they still burn within us."