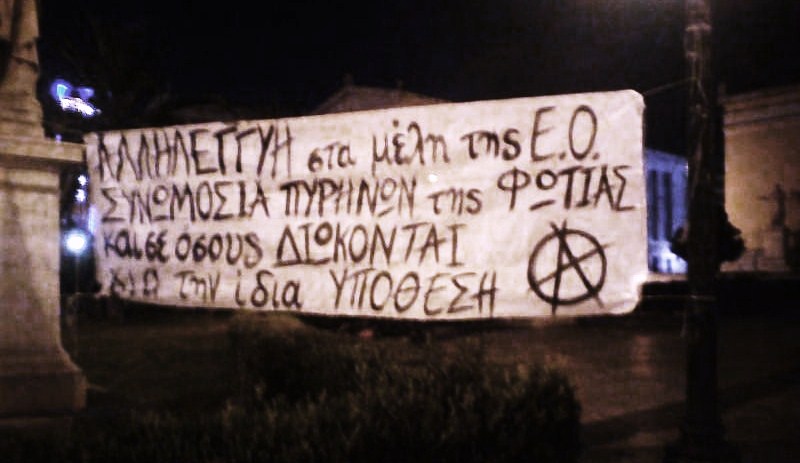 On October 2nd, 2012, in the last session of the 2nd 'Halandri case' trial (with all four defendants absent from the courtroom), Damiano Bolano, Michalis Nikolopoulos and Giorgos Nikolopoulos were each sentenced to 7 years' imprisonment for their participation in the R.O. CCF and 10 years' imprisonment for each of four acts of fabrication, supply and possession of explosives. They were also convicted of simple complicity by instigation, and thereby each sentenced to 7 years' imprisonment for each of three explosions by unknown perpetrators which emanated danger to things and people. To sum up, each received 68 years' imprisonment. Each sentence was merged into 34 years, but the maximum prison term is 25 years, which are typically served either as a full sentence (or by day wages in prisons), or after the completion of 3/5 of the prison term, when a prisoner can be granted conditional release under specific conditions.
Christos Tsakalos was sentenced to 7 years' imprisonment for his participation in the R.O. CCF. On 3/10 he released a statement (in English here), explaining that he refuses to accept any judicial discrimination between him and his CCF comrades, and thus throws his 'softer' conviction back in the judges' faces.
The court also ruled that Damiano Bolano (comrade of Albanian origin) must be deported from Greece after serving his prison term.
For all four comrades, the judges' decision provided for five years' deprivation of political rights and non-suspensive effect of appeal.
English summaries of all trial sessions here.
Another CCF case trial begins on Monday, October 8th, 2012 to cover four separate accusatory briefs: the sending of incendiary parcels on November 1st, 2010 (claimed by the R.O. CCF), the arrests made during the December 4th, 2010 antiterrorist operation, the arrests made in Volos in March 14th, 2011, and the May 18th, 2011 shootout with police in Pefki (Athens). Nineteen people are facing charges, among whom are the nine imprisoned members of the R.O. CCF, imprisoned anarchist Theofilos Mavropoulos, four anarchists arrested on December 4th, 2010 (Stella Antoniou, released with precautionary measures since June 2012, as well as the imprisoned comrades Giorgos Karagiannidis, Alexandros Mitroussias and Kostas Sakkas), Konstantinos Papadopoulos (released under restrictive terms since March 2011, after being caught in Athens on the same day as the five CCF members in Volos), and the two fugitive comrades Yannis Michailidis and Dimitris Politis. In addition, anarchists Christos Politis and Dimitris Michail are prosecuted on misdemeanor charges.

In the UK, Chile and Greece, Black International Editions released the brochure Mapping the Fire – International Words of Solidarity with the Conspiracy of Cells of Fire as an act of solidarity and confrontation to this court process (in Greek, English and Spanish).