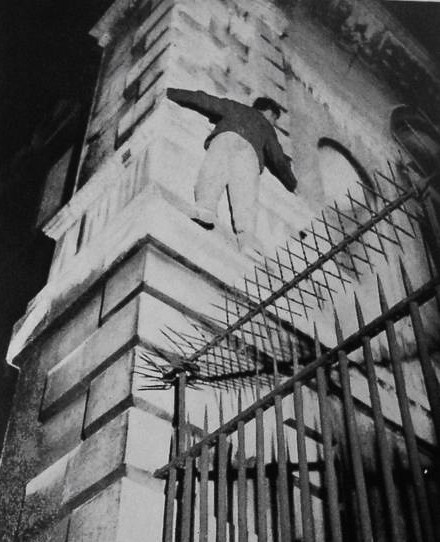 April 4th – Hunger strike declaration of Spyros Dravilas (inmate of Domokos prisons, who is currently held in the hospital of Koridallos prisons), titled 'The State and its institutions get revenge on those who don't succumb to their system by depriving them of the acquired right of temporary leave'. Authorities deny Spyros Dravilas the temporary leave from prison he is entitled to for two and a half years now.
April 6th – Hunger strike declaration of Giorgos Karagiannidis, Alexandros Mitroussias and Kostas Sakkas — 'as of today 6/4 we go on hunger strike demanding the lifting of our arbitrary and vindictive pretrial detentions and the immediate release of our co-defendant Stella Antoniou on health grounds' — cosigned by S.Antoniou (who is currently protesting with prison food abstention).
April 6th – Hunger strike declaration of CCF imprisoned members Panagiotis Argirou and Gerasimos Tsakalos, who request their final transfer and stay into Koridallos prisons, in order to put an end to their repeated vindictive transfers and physical–psychological wear and tear.
April 7th – Solidarity abstention from prison food by anarchist Vaggelis Kailoglou (who is one of the four arrestees of February 12th that were remanded in custody)
April 7th – Solidarity abstention from prison food by the anarchist captives of war Sokratis Tzifkas (Diavata prisons), Giannis Skouloudis (Avlona prisons), Babis Tsilianidis and Dimitris Dimtsiadis (Koridallos prisons)
April 8th – Hunger strike declaration of CCF imprisoned member Christos Tsakalos, in solidarity with the two CCF comrades on hunger strike
April 8th – Solidarity abstention from prison food by 130 prisoners in the 1st wing of Koridallos men's prisons
April 9th – Solidarity assembly at Athens Polytechnic School, in Gini building, with telephone intervention by the hunger strikes from inside prisons
April 9th – The rest of CCF imprisoned members and the anarchist revolutionary Theofilos Mavropoulos declare they will gradually join the hunger strike of their brothers Panagiotis Argirou, Gerasimos and Christos Tsakalos.
April 11th – Stella Antoniou's statement on recent developments: The prosecution authorities did not order that Stella be remanded in custody again; nevertheless, they ordered the remand of Sakkas, Mitroussias, Karagiannidis, based on fabricated charges against them concerning the older 250 CCF arson attacks. Given these facts, and in agreement with her three comrades, Stella explained she broke off her participation in the hunger strike, and despite her health problems, will abstain from prison food until their demands are met.
April 11th – Solidarity abstention from prison food by the imprisoned anarchist Rami Syrianos
April 14th – An assembly in solidarity with G.Karagiannidis, A.Mitroussias, K.Sakkas and S.Antoniou released the following news (among others): 'Currently, the three comrades Karagiannidis, Mitroussias, Sakkas have been accused for the case of the 250 CCF arsons by the appellate–interrogation experts Mokkas and Baltas, who ordered that all three as well as the members of the R.O. CCF be remanded in custody once again. Stella Antoniou was charged in the case too, but wasn't remanded in custody again, and so is expected to be released at the end of the 18-month period of her first pretrial incarceration (in June 2012) while her 5th request for release on health grounds has not yet been answered'.
Let us remind that Stella is held in pretrial detention for 16 months already, with the possession of a fake ID as sole evidence against her.
April 14th – News on the three CCF imprisoned comrades after one week on hunger strike: Gerasimos has lost six kilos, Panagiotis five kilos and Christos seven kilos.
April 15th – Three more CCF imprisoned comrades, Haris Hadjimihelakis, Damiano Bolano, Giorgos Polidoros, will go on hunger strike from April 17th:
Text of Haris Hadjimihelakis, Damiano Bolano, Giorgos Polidoros, members of the imprisoned cell of the anarchist R.O. CCF

SOLIDARITY BETWEEN ANARCHISTS OF PRAXIS IS NOT JUST WORDS

In our non-negotiable decision to turn our daily life into revolution through direct action and the anarchist urban guerrilla warfare, we began a course with a starting point but with no final stop. We made and continue to make choices which completely include our lives. We are proud of this. Our minds travel beyond the walls of prisons, planning the new hostilities in the streets of illegality, where we lived moments of absolute freedom. Until the moment when this desire becomes reality, we continue with passion the struggle within the prison, with the means we have now.

We had declared as Conspiracy [along with the anarchist revolutionary Theofilos Mavropoulos] that if the demand of the comrades, members of our organization Gerasimos Tsakalos and Panagiotis Argirou, for their final transfer from Domokos prisons [to Koridallos prisons] is not satisfied, we will culminate the hunger strike they have already started since 8/4 with our comrade and brother Christos Tsakalos. Thus, we announce that we begin a hunger strike on Tuesday 17/4 next to our comrades Gerasimos, Christos and Panagiotis, who will then be on their 10th day on hunger strike.

In the struggle for dignity we will definitely be winners, at any price…

LONG LIVE THE ANARCHIST REVOLUTIONARY ORGANIZATION CONSPIRACY OF CELLS OF FIRE/FAI-IRF

LONG LIVE THE BLACK INTERNATIONAL OF ANARCHISTS OF PRAXIS

Haris Hadjimihelakis, Damiano Bolano, Giorgos Polidoros
Members of the Imprisoned Cell of the Anarchist R.O. Conspiracy of Cells of Fire

PS.1: A warm hug to comrades Eat and Billy, who have taken responsibility of their participation in the 'Long Live Luciano Tortuga' Cell of FAI/Indonesia sector; our unlimited solidarity to comrade Billy, who has serious health issues.

PS.2: We send our revolutionary solidarity to Spyros Dravilas, who has begun a hunger strike from 4/4 since the humanguards of Domokos deny him the days of prison leave he is entitled to for 2.5 years now. Spyros is one of the few dignified prisoners, since he has managed to keep himself outside the big waste bin of prison.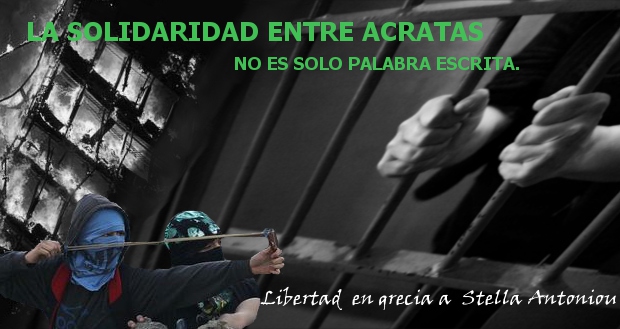 Since April 6th to date, solidarity interventions as well as arson attacks and sabotages have taken place in several parts of Greece (from Heraklion on Crete Island, Athens, Livadia, Patras, Thessaloniki, to Veria and Komotini in northern Greece), but also across Europe and Latin America (from Barcelona in Catalonia, A Illa de Arousa in Galicia and Murcia of Spain, Cardiff, Bristol, Cambridge in the UK, Amsterdam in the Netherlands, Hamburg and Berlin in Germany, to Cono Sur in Chile, La Paz in Bolivia, New York in the US, and Anarchist Black Cross of Medellin in Colombia).
People get locked up in Greek prisons for more than one and a half years before even standing trial, and depending on each judicial machination, those accused of alleged crimes may be placed on remand over and over again. At great risk to their lives, some dare to continue the fight against Power. This is one of the harshest attempts of the regime to break the strong solidarity between comrades, both imprisoned and outside prison walls. We won't let them break us.
As Sofoklis Nigdelis once said from Grevena prisons, 'Solidarity and comradely collectiveness are some of our destructive weapons.'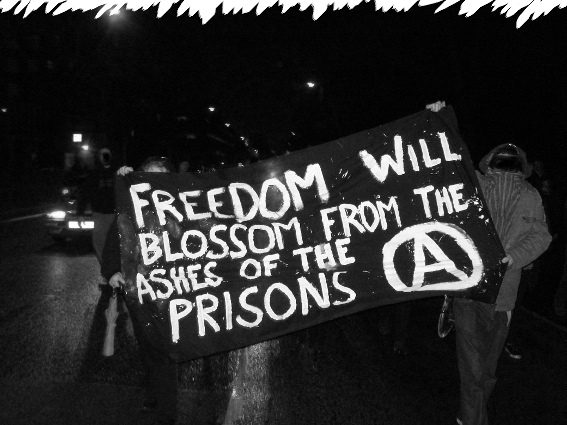 more updates soon