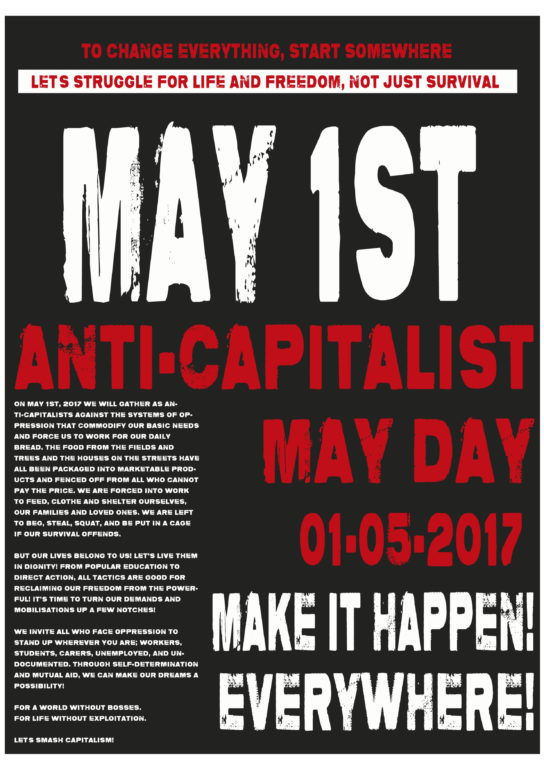 As part of our call-out for an Anti-Capitalist May Day we would like to provide some information about an event we will be holding, as well as some general information and ideas surrounding the initial call-out.
We are an initiative made up of various individuals who are working towards organising an Anti-Capitalist themed May Day event in Armidale, which is situated on Anaiwan land (an area in so-called Australia). The aim of the event will be to bring people together to hold discussions on our conditions and experiences as workers; to devise strategies for improving our lives; and to build support for all sectors in struggle, whether worker, unemployed, local or refugee.
Our initial call-out was a general call to action, and for those who would wish to, or are interested in, an encouragement to organise their own events wherever they are. Here, in so-called Australia, yearly we see a sombre march made up of political parties, bureaucratic trade-unions walking the same set-out route with no feeling, inspiration, or general opposition to the status-quo. What is worse, is that at the end, it usually culminates in a speech from a labor party leader.
From many anarchists/anti-authoritarians/anti-capitalists, we here the same arguments year after year: that is is a great opportunity to get our information out, that we need to be involved with those who are already involved in a union or want to take part in a march. While this may be true in the smallest way, the fact we walk passively behind a contingent of labor, liberal and greens party members is really enough to chuck any argument in defence of this misery out the window. How can we really demonstrate a shift from the perspective of beautifying an exploitative system when we are only tagging along to a procession that has long forgotten the need to struggle against capital and state? We do not condemn those who take part in these rallies, we just envision and hope for more; we desire a movement that can point to, and address the disasters of capitalism. This one day won't amount to that, but it can highlight so much more than a march made up of political parties/supporters of this cruel system.
We take inspiration from our comrades in Montreal – as well as those throughout the world – who have in determined fashion continued to remember and demonstrate the anti-capitalist and subversive spirit May Day emanates from.
It may not be much, it may not be taken up everywhere or even elsewhere, as we desire, but it will not prevent us from trying. To start somewhere is all we can attempt.
May 1st is a day of solidarity with other exploited people across the world and within our communities. This is a call to reclaim and rebuild the history and struggle against oppression with an anti-capitalist gathering, celebration and resistance.
This year we will commemorate those who fought with their lives for an 8 hour workday in Chicago over 100 years ago, and the innocent anarchists who lost their lives at the hand of the law. On May 1st 2017 we will stand against capitalism, colonialism, borders and the state; we will stand for freedom, community and self-determination as we continue the struggles of workers started so many years ago.
Capitalism continues to steal land, life, culture and language from in the name of profit. The empire it has built on stolen land keeps workers under the boot of the bosses, the unemployed under the boot of the state, as our labour increases their profit margins and we merely survive and dream of the lives we can live in our worn-out bodies come retirement.
On May 1st, 2017 we will gather as anti-capitalists against the systems of oppression that commodify our basic needs and force us to work for our daily bread. The food from the fields and trees and the houses on the streets have all been packaged into marketable products and fenced off from all who cannot pay the price. We are forced into work to feed, clothe and shelter ourselves, our families and loved ones. We are left to beg, steal, squat, and be put in a cage if our survival offends.
But our lives belong to us! Let's live them in dignity! From popular education to direct action, all tactics are good for reclaiming our freedom from the powerful! It's time to turn our demands and mobilisations up a few notches!
As long as there are workers that can be exploited for less, here or abroad, wages will be pushed down. As long as our struggles do not include all those suffering under capitalism, the governments will keep cutting down other oppressed folks to give crumbs to the rest, while keeping the biggest part of the cake for itself. This is why class war requires an understanding of how our interests oppose those that are getting richer every year because of the increasing gap between rich and poor, whether locally or internationally. Let's celebrate a May Day of real solidarities! Let's not become divided! Lets attack together those who benefit from these conflicts, and overthrow capitalism while we still have time!
We invite all who face oppression to stand up wherever you are; workers, students, carers, unemployed, and undocumented. Through self-determination and mutual aid, we can make our dreams a possibility!
For a world without bosses.
For life without exploitation.
Let's smash capitalism!