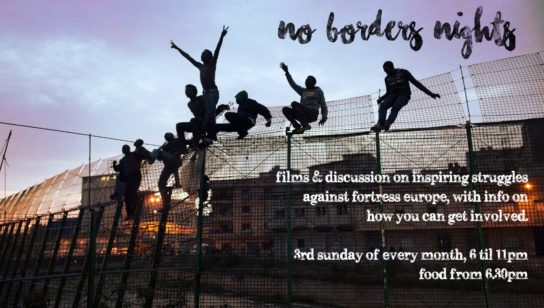 No Border Nights
Films and discussion on struggles against the borders.
3rd Sunday of each month starting 17 April @ The Field, New Cross. 385 Queens Road SE14 5HD.
discussion – music – vegan food – film – reports from the borders
The first in a series of monthly South London socials against borders. Come, share and learn about what's going on at the borders & find out about inspiring struggles against Fortress Europe.
Every month will have a different focus – from local struggles against detention centres, deportations, and immigration raids in our neighbourhoods – to migrant squats in Greece, solidarity convoys in the Balkans, and anti border protests in Hungary.
The topic of this month's event will be migrant resistance & solidarity in Greece, and the effects of the EU-Turkey deal. We'll hear from a speaker recently back from Greece and have a live-link with people currently out there. Plus we'll also hear about what's been going on more locally and how you can get involved.
6.30pm: Food
7pm: Talk, film & discussion
9pm-10pm: Music