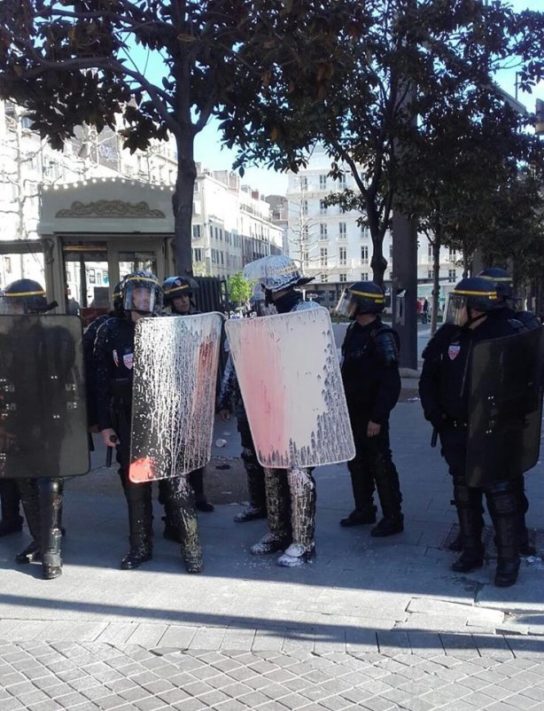 Some paint, things broken, overturned bins, gas and at least one arrest* – April 9th
Around 2pm Place de Gaulle; approximately a thousand people pass in front of the CGT parade to take the front of the demo. 10,000, maybe 20,000 people were present in total.
The very classic Canebière to Liauteaud passed calmly. And when everyone awaited the arrival of the demo in Castellane, surprise, the head of the demo went off on a wild demo towards Baille. In an atmosphere distinctly more offensive and masked, 500 people took rue Lodi. An intent to say hello to the small fascists at 14 rue Navarin was attempted but the BAC cops watched over to protect them, and we were prevented from accessing the street.
The march then left again towards the city centre and the tension escalated again. Graffiti became apparent, bins were systematically overturned in the middle of the road, banks and publicity boards now have to change their windows. A beautiful mess rocked St Ferréol shopping street. Further along, in front of the Medef [Movement of the Enterprises of France] a few CRS anti-riot cops seemed less laid-back to see hundreds of people encircle them. Fittingly, as a few minutes later, while receiving cans and stones, they were repainted with an extinguisher, at the same time as the front of the Medef. The tear-gassing started just after.
In the confusion that followed, the BAC cops made an arrest. It would of once again been possible to attempt a de-arrest, but unfortunately not enough people seeked to liberate the person.
The march arrived on the Canebière avenue and steered itself towards Vieux-Port; we sensed it would've discomforted the cops to gas everyone on a Saturday afternoon, it would've inconvenienced the tourists…
After a pause at the City Hall and a new paint job on the cops, the demonstration went back up Canebière. CRS buses that felt impunity along the march took some kicks and blows from bars. This was followed by a charge of cops. The march then dispersed at Cours Julien.
Contrary to the victimisation discourses we can hear here and there in assemblies, whether it be at this demo or at another, the cops don't attack us freely for their pleasure. It's when we become aggressive and dangerous that the State unleashes its guard dogs to restore order. Rather than cry and complain of the repression, let's organise for the battle!
* The arrestee was released after agreeing to an immediate appearance in court, with six-month suspended sentence and 160 hours of General Interest Works (TIG).