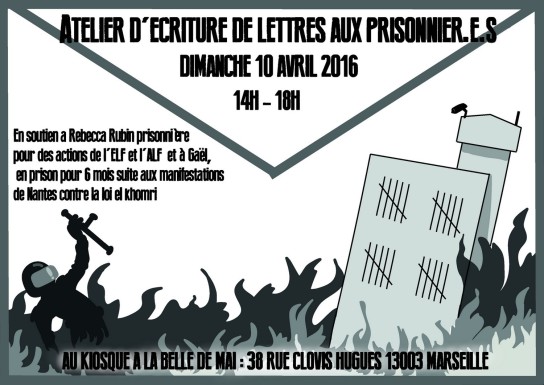 Since the month of January prisoner letter writing workshops have taken place at the Le Kiosque [Marseille], the first occasion for the day of solidarity with trans prisoners, then in support of Osman Evcan, in prison since 30 years old and begins his 4th hunger strike to receive vegan meals, for himself and all prisoners.
This time it's especially in solidarity with Rebecca Rubin, who's serving a 5 year prison sentence for arsons, attempted arson, and conspiracy to commit arson in the states of Colorado, Oregon and California in the name of the ELF and ALF between 1996 and 2001 [she also participated in freeing wild horses in California and Oregon]. One of the arsons in 1998 notably destroyed $12 million of a ski resort. She has always refused to provide the names of other participants in these arsons.
In 2006, she learnt she was being sought after for the arsons, whilst the media didn't hesitate to compare her to Osama bin Laden. Initially she refused to hand herself in and was later arrested in 2012 by the FBI.
And with Gaël: In Nantes, during one of the demonstrations against the labour law, seven people were placed in custody. Two were released with summonses whilst Gaël remained locked up until his trial on Monday 21st March, where he was sentenced to 6 months in prison.
Meet in the afternoon of Sunday 10th April from 2pm at Le Kiosque (38 rue Clovis Hugues, Belle de Mai):
Letter writing workshop
Anti-prison radio shows
Music
Infoshop
:)
Solidarity is a weapon
As of May 2014, Rebecca is now at FCI Dublin:
Rebecca Rubin
#98290-011
FCI Dublin
5701 8th Street – Camp Parks
Dublin, California 94568
USA
in German and Portuguese