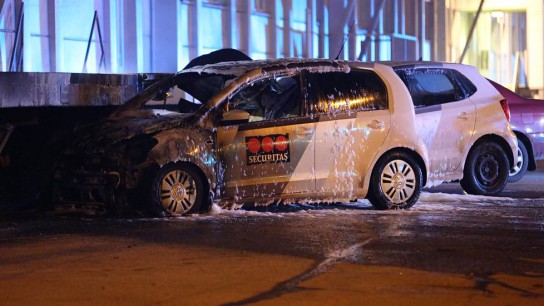 Received April 3rd:
When checking the interwebs on 29th of March we found an interesting contradiction.
The local yellow press price winner, Ilta-Sanomatm published a short article about two magically self-combusted cars of the private security company Securitas. At the same time an anonymous operator claimed responsibility on torching these vehicles, stating the following:
"…With this attack we want to bring to light the co-operation between Securitas and Fennovoima nuclear energy company that is known for its destruction of the environment. The 1st of April will be the first day that Securitas will be in charge of (security of) the construction site in Hanhikivenniemi, where the nuclear plant is meant to be built.
With this arson we welcome Securitas to Fennovoima! We want to send our solidarity to Monica and Francisco. And all the prisoners of the world!"
Takku.net is, by its own definition, a do-it-yourself alternative media project: and for many state officials and regular citizens, it strongly connects to the anarchist scene and other forms of grass root radicalism.
This time the Pyhäjoki anti-nuclear protest camp doesn't comment on the practice of burning vehicles or Takku.net. In this particular case, we see something much more interesting to poke at.
Silence around the Fennovoima-Rosatom project has been notoriously ear pounding ever since Rosatom came along in 2014. Couple of heavy duty journalists and selected party politicians have wondered over this phenomenon, stating that they're never before experienced such during their careers: usually when you publish an article with strong statements and unpleasant information, the target of it at least publishes that usual "well it surely wasn't like that and on what this journalist has to back up their claims?" -feedback. In Fennovoima's case: just – silence.
Statements and comments of Rosatom simply just using nuclear power as a tool for geopolitics and as a method of attaching states to Russian interests with financial ties has been left categorically unanswered. The president Sauli Niinistö and minister Olli Rehn have turned coats over nuclear power in general after visits to Moscow started a regular pace – not to forget the nomination of yesterday's Finnish politicians. The former Prime Minister Esko Aho just got a post from Sperbank, a Russian bank directly under command of Kreml and one of the financiator's of Rosatom and the post box company Migrit, wich was used to arrange more time for Fennovoima during summer 2015 to have their licence papers sorted out in given time.
Now, Takku.net is a source yellow press has so far loved to use as a source for high-flying, click-gathering articles and speculations about radicals, anarchists, ecoterrorists and other grass root movements they like to give funky names to. But this time something's different: there's a claim of responsibility and an open statement about politically motivated arson, of a direct attack at law and order – and no yellow paper goes poking on it. No media channel pick on it. Earlier on, they have sank their teeth on anything available on such topics, truthful or not, no difference: it's the speculations and big headlines that sell. But this they decided to look the other way.
We do not speculate. We just observe. What could possibly be a reason big, scary or important enough to leave such a click-gatherer untouched? After all, we all know Fennovoima-Rosatom is not about energy politics, but simple geopolitics. So profoundly perhaps, that even the commercial media bows their heads to that?