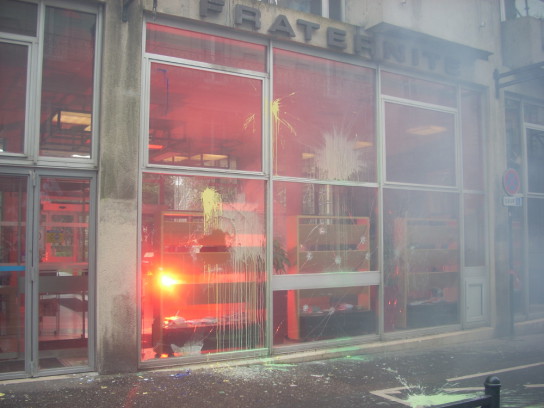 Today, March 31st, a new day of mobilisation against labour reforms took place. Everywhere in France colleges were blockaded, schools were on strike and several demonstrations occurred which ended in conflict against the cops, like in Toulouse, Marseille, Rennes, Nantes and Paris.
In Nantes, the demonstration gathered more than 30,000 people, and all along the procession, banks were attacked with hammers and extinguishers, the City Hall was smashed up, a Vinci agency (the builders of the airport on the ZAD of Notre-Dame-Des-Landes) was repainted, just like the Socalist Party office. The luxury hotel Le Radisson, located within the walls of the former criminal court, is one of the symbols of Nantes-style gentrification: the prison, which is based behind, was entirely cleared out to leave clean space for the rich. For this occasion it was repainted with lots of extinguishers, a little wink to Georges Courtois, who took the court hostage during his trial in 1985 with Abdelkarim Khalki and Patrick Thiolet.
Barricades were also erected in several places, streets de-paved and all day tear-gas grenades rained down. Several shots of LBD 40 (flashball) were fired.
Unemployment, Cash and Riots!
ACAB!
German | Italian | Portuguese