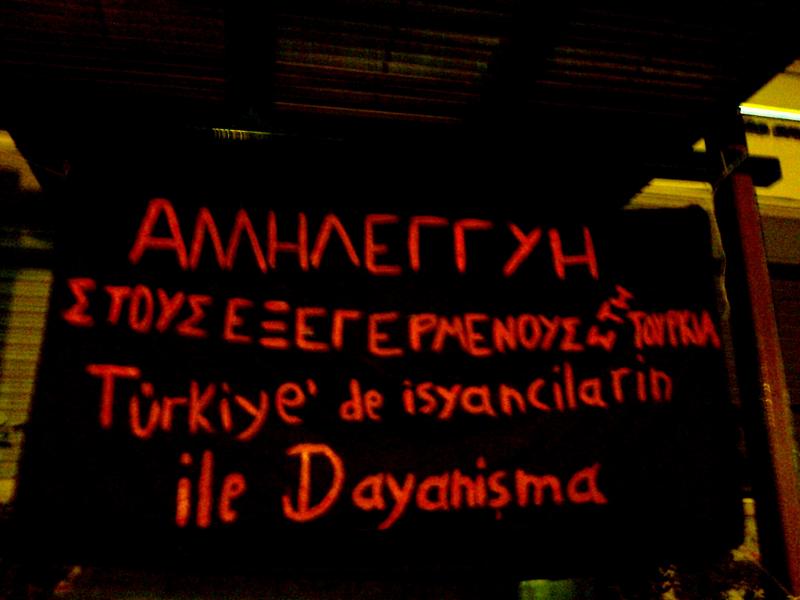 Banner on Lesvos Island (opposite Turkish shores): 'Solidarity with the rebels in Turkey'
On June 1st we were in Taksim at about 3pm. After clashes that started in the morning, police was forced to leave the area. The cops disappeared for some hours. For two hours there was no police presence in any area in downtown İstanbul (European side). People occupied the Taksim Square and Gezi Park. The number of people was huge. All of the park, square and roads that lead to this area were full of people. All the construction barriers that were closing the west side of the park were destroyed by protesters. Some of the police barriers were removed and were thrown down to the road that goes to the newly constructed underground tunnel. Others were used in the barricades built by protesters. The police hut in the south of the park looking down the square was set on fire and the anti-riot vehicle left there by police was destroyed, too. One police car in the same place was turned over and destroyed as well. People were filled with joy and they were taking souvenir photos in front of the destroyed vehicles and building. North of the Park is Hyatt Regency hotel and at the entrance garden of the hotel there was a police car thrown into the pool. Four public buses were left at the crossroad that is near and were also damaged.
[vimeo]http://vimeo.com/67432788[/vimeo]
[vimeo]http://vimeo.com/67480646[/vimeo]
At around 6pm we learned from our comrades that clashes started to take place in Beşiktaş, where the office/house of Tayyip Erdogan is located. People were attacking from four directions: from the Beşiktaş Square (east), Dolmabahçe road (west), Akaretler (northwest) and Ortabahçe road (north). Police was stuck there with four anti-riot vehicles with water cannons and around 150 police officers at the entrance of Hayrettin İskelesi street. At all directions barricades were erected. After some hours police was able to push people, and repression forces expanded. New barricades were set on Mumcu Bakka street and Süleyman Seba road to prevent the police force from entering the Çarşı, which is the bazaar area of Beşiktaş where people hang out. Police used plastic bullets when the people's attack intensified. Clashes continued till around 1.30am (2/6). Finally police used excessive amount of gas bombs to disperse the crowd, and people left the barricades and took shelter in the shops and bars around, or regrouped in inner streets of Beşiktaş.
Meanwhile resisters in Taksim built huge barricades on the roads and streets around the square and Gezi Park all night. Also, people torched construction vehicles. Buses, cars, construction materials, police barriers, thrash containers, etc. were used as barricades.
In the places where we've been, in İstanbul, many demonstrators thought twice before destroying capitalist targets around them, cautious of possible media manipulation. Besides CCTV cameras that were sabotaged, we only saw one ATM damaged. We moved several vehicles to use them as barricades but didn't damage them (at least not on purpose). So, mainly the cops are the ones targeted in these clashes. But in İzmir, for instance, we know that protesters attacked one bank and a Starbucks, among others.
Oftentimes police agents mislead various individuals toward streets they should not go, and detain them there. This day alone, particularly in Istanbul, all of the persons detained in Taksim and Beşiktaş are said to be released. Almost 80 of them were taken to the courthouse and freed by the prosecution, while nearly 100 of them were released without standing before prosecutor.
On June 2nd (according to mainstream media) 30,000 people were gathered in Taksim by 2.30pm. One flyer at Gezi Park read: 'Iktidar hayatı hedef aldığında, hayat direniş olur / When Power targets life, life becomes resistance.'
Clashes started in Beşiktaş at around 6pm, and barricades were once again built along the streets of this district. Police force and brutality was much heavier than the night before. After few hours police used excessive amount of tear gas and pushed back the crowd to the inner streets. They threw gas bombs onto the inner streets and chased after the escaping protesters. They also targeted houses, shops and cafés. Residents and shop owners were completely in solidarity with the demonstrators and they opened their homes and doors to the protesters that were trying to escape the police. Health service was provided at several secret locations. Clashes declined after 1am but continued till 5am. At some point in the night, near the İnönü Stadium in the district of Beşiktaş, rioters took over a big excavator and used it to chase an anti-riot vehicle off. At around 3am there was a massive attack of police again, and this time they detained many people.
To add few more slogans from the streets: 'Tayyip'in piçleri, yıldıramaz bizleri / bastards of Tayyip, you cannot scare us off', 'bu daha başlangıç, mücadeleye devam / this is just the beginning, continue the struggle' but also 'hepimiz Mustafa Kemal'in askerleriyiz / all of us are soldiers of Mustafa Kemal' (unfortunately chanted very often by patriots/Kemalists and others).
In late evening of June 2nd, many estimated that detentions may be as many as 1,700 from 235 demonstrations held in 67 cities all over Turkey. More than 900 people were reported detainees in Ankara (most of them held in a municipal stadium). Indeed, the protests spread in numerous cities; Izmir has also been on fire, and Ankara saw extended clashes the last couple of days. In Ankara, it seems that police used live ammunition (video footage during moments when a young man was shot in the head by cops).
There's a critical shortage of blood at local hospitals because of the hundreds of wounded and the surgeries that need to be done, thus resisters invite people to make blood donations.
Luckily, the young woman shot in the head by gas bomb on May 31st is not dead. During the night of June 2nd, we received news that she's able to move her hand but she's still unconscious; her skull is cracked.
Surely, it is very hard to keep track of rebellious acts and repressive situations across the territory controlled by the Turkish State. Furthermore, we have no clear picture of the presence of nationalist scum in the various crowds. In regards to police officers, they have extensively used rubber bullets, all sorts of tear gases, and stun grenades, charges with batons, attacks with water cannons, and real firearms on occasions. Furthermore, the Turkish government has unleashed an ever increasing number of anti-riot forces and deployed parastatal thugs and plainclothes in the streets. Police violence levels were depicted on video footage from 1/6, with yet another protester hit by police panzer. Check this gas bombing directly into a house through the window. You may also visit Delilim var ('I've got evidence') for documentation of police brutality.
According to this photo-reportage blog, 'the orange/red liquid was confirmed by several sources to be CS mixed with orange or red paint (different in different areas of the city) to tag protesters for later identification. It should be clarified that it was not agent orange, a rumor that spread a lot. Agent orange is colorless, named after orange stripes on the barrels it was shipped in.'
The liquid they're throwing with water cannons is sometimes yellowish and sometimes reddish color. The yellowish has the same effects as tear gas, and people feel their skin burning.
However, protesters resist and fight back (e.g. see video where few in spontaneous counter-attack confiscate police shields).
Solidarity gatherings took place worldwide, across Germany, in the Netherlands, the UK, Spain, France, Greece, on Cyprus, from New York to Buenos Aires…
Here are few slogans chanted in the city of Ioannina (Greece, on 2/6) during a solidarity rally: 'In Greece, Turkey, Albania, the enemy is the banks and ministries. / In Sweden, Greece, Turkey, riots turn into reality, they're not a utopia. / Squares of Turkey, mountains of Mexico, revolts will soon break out everywhere. / For us borders don't mean a thing; crush fascism in Greece as well as Turkey. / Whether in Greece or in Turkey, anti-riot squads and stratocracy are one and the same. / Neither with the police nor the army, Taksim will not become a trade centre. / Rebellion does not just happen for a square; projectiles cannot kill freedom. / Rebellion will happen on every square; freedom cannot be killed by bullets.'
Meanwhile, in Greece, 24-year-old Bulut Yayla (political refugee from Turkey) was literally kidnapped in Athens by agents of police and secret services, and he is currently held in custody at Istanbul's anti-terrorist department. Get the details in English here (in Greek here).
You may send original resistance fliers, posters, or texts from the riots in Turkey, if you have any, at contrainfo[at]espiv.net. Files can also be sent to various different anarchist/libertarian groups you may know, to be printed and pasted on walls of other cities.
Rough translations of live tickers from Turkey are being posted on linksunten
Translators needed for Turkey-news-timeline
More info/links: 1, 2, 3, 4