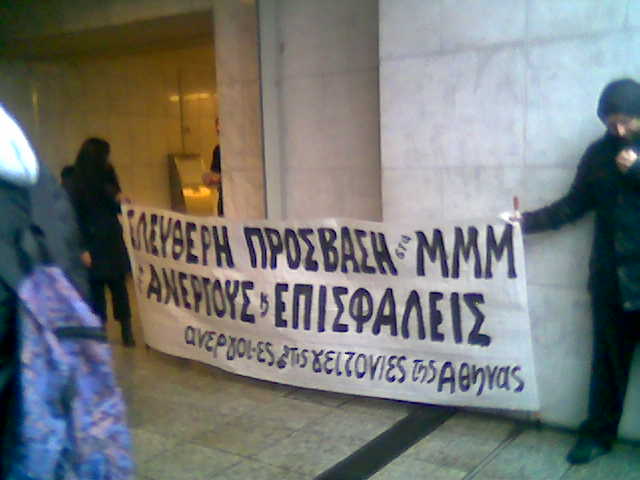 On Saturday, December 29th, people's assemblies and other groups intervened into metro and tram stations by unfolding banners and sharing informative material for the right to free movement, in public transport and beyond. The participants started from different points of the city until they reached the Syntagma metro station, where they tried to approach passengers and spread the need to skip paying the fare, as a form of protest.
A text by the 'Proletarian denialists of the debt' and the 'Open neighbourhood assembly of Elliniko–Argyroupoli' (southern suburbs of Athens) was handed out to passengers and passersby, which began with the slogan: "Instead of not forgetting to validate your ticket, don't forget to attack the State which is plundering your life!"
The action was also supported by members of the Attica base union of workers in the book–paper sector, who informed random people about the nationwide strike in the trade sector under the slogan 'Never Work on Sunday', which was declared for December 30th against the opening of commercial stores and against work on any Sunday.
This flier that was shared by 'Unemployed and precarious workers from various neighbourhoods of Athens' reads:
Free transportation for workers, unemployed, students and pensioners
We say no to the privatization of public transportation means
Transport services are a public good
Discussion for further actions on Thursday, January 10th, 2013 at 18.00pm in the Polytechnic School of Athens (entrance from Stournari Street)
Collectives of workers, unemployed, students, neighbourhoods for a free transportation