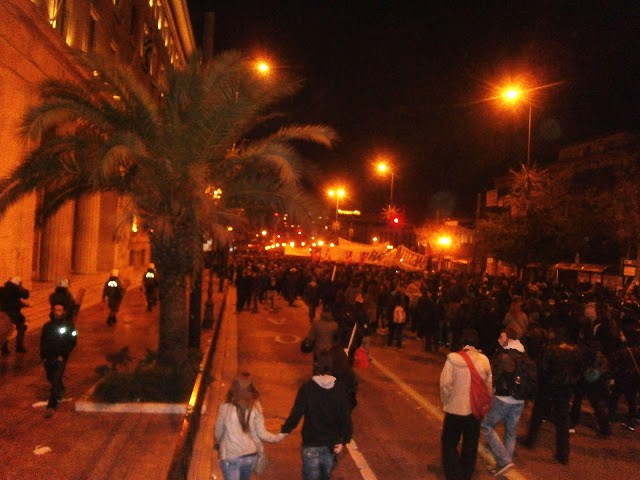 On December 9th, another assassination attempt by cops in downtown Athens was reported:
On Thursday, December 6th, 2012, shortly before the commemorative evening demonstration for the killing of Alexis Grigoropoulos, an extremely violent police assault took place at Propylaea, on Panepistimiou street.
At around 19.00pm, during the protest gathering, first the cops of the DELTA motorcycle police unit and then the anti-riot squadrons attacked the crowd and started to harass every person they could lay hands on. Many people tried to avoid being beaten. The result was that the demonstrator blocs were dispersed for some moments. A protester who did not run away was cornered by cops, who threw him on the ground and beat him relentlessly, kicking him in the stomach and ribs. He avoided arrest as he got up and walked away, but the murderers in uniform had already stolen his bag, which also contained his identity card.
After approximately three hours, his friends urged him to go to a hospital on duty, because he was still feeling an unbearable abdominal pain. The doctors said that the man had some broken ribs but also suffered internal bleeding, so he was at risk of losing his life and was taken to surgery immediately. When his companions went to the hospital, they found him in a relatively stable condition after the operation. Nevertheless, as a result of police violence, the injured protester was forced to undergo spleen removal.