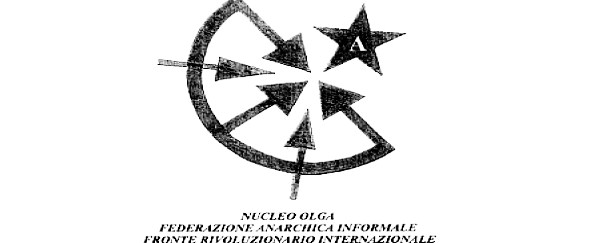 After a long summer during which operations "Ardire", "Mangiafuoco", "Ixodidae (Zecca)" and "Thor" were launched, anarchists take first place among the internal enemy that must be sterilized to avoid dangerous and virulent contagion of hostilities and struggle…
A new repressive operation, organized by Genoa's prosecutor after the kneecapping of Roberto Adinolfi (on May 7th), the CEO of Italian nuclear firm Ansaldo Nucleare, led units of the ROS (Carabinieri special forces) and the DIGOS (political police) inside apartments of numerous comrades, while two anarchists from Turin, Alfredo Cospito and Nicola Gai, were arrested on September 14th. A third comrade, Anna Beniamino, is under investigation but not in prison.
The regime's media talk of investigations and raids in Turin, Cuneo, Pistoia and Bordighera. Also, according to mainstream journalists, among the elements in the possession of the investigators there is footage with both Alfredo and Nicola seen at the train station of Genoa, as well as surveillance cameras data (giving authorities the benefit of biometrics facial recognition), etc.
Alfredo, Anna and Nicola have publicly disclosed evidence about permanent surveillance on them for months now, including bugs and cameras in their homes, constant police tracking and following/stalking (see i, ii, iii, iv).
The two comrades are being held in Turin prison, pending validation of their arrests/pretrial detentions. In the coming days, it is possible that they'll be transferred to another hellhole. Meanwhile, you may write and send them telegrams at:
Nicola Gai
Alfredo Cospito
C.C. via Pianezza 300, IT-10151 Torino
Solidarity with arrested and under investigation.
Freedom now for Nicola and Alfredo!
Update: The judge for the preliminary investigations validated the arrest of Alfredo, and rejected that of Nicola, who nevertheless remains in prison, too, because of a new remand order that was issued against him.