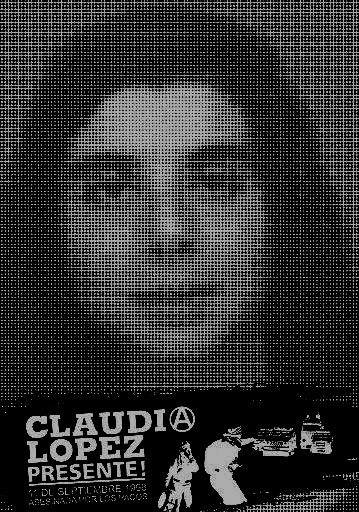 Young anarchist Claudia López Benaiges, who studied dance at university, was participating in a protest against the 25th anniversary of the fascist coup of Pinochet when she was shot in the back by Carabiniers (police) in the village of La Pincoya in Santiago ($hile), on September 11th, 1998.
After the assassination, she became a symbol for the whole student movement in the state of $hile and socially-orientated youth organizations. And for the emerging anarchist movement her death demonstrates that the everyday $hilean regime continues to be dominated in the shadows by sinister military figures responsible for the coup of 1973 and the whole procession of horrors, persecutions and deaths of $hile's recent history.
Today, 14 years after her murder, no one has been held responsible or found guilty for the crime, which only shows that in the State of $hile the same insidious impunity of repressors continues until this day.
YOUR REBELLIOUS DANCE SHALL ENDURE FOREVER IN OUR HEARTS!
NEITHER FORGET NOR FORGIVE!
Below, one of the poems by the comrade Claudia López

Behind the walled bodies
Today I am stretching my hands out through these walls, condemned to retain dying emptiness, to crack identities smelling of mud, to tear out stellar ideologies written on the skin.
Today, I am tattooing on the wall the liberated, rebel, subversive and insurrectionary thoughts, smells, sounds, and I am finishing the unfinished murals in the streets which have not been completed.
And, today, I am lighting, we are lighting a thousand bonfires, I rise up, we rise up a thousand times. I strike, build chimeric tunnels, and tomorrow I will set, we will set fire to the bars.
Because no sentence will be a life sentence, and no "high security" prison exists for the dreams of the crickets and the hopes of the cicada. Because these subversive and walled ovules will give birth to the next BARRICADE!
Documentary (in Spanish) "Claudia in the heart":
Video of a dance performance by Claudia López:
Another video dedicated to the comrade: