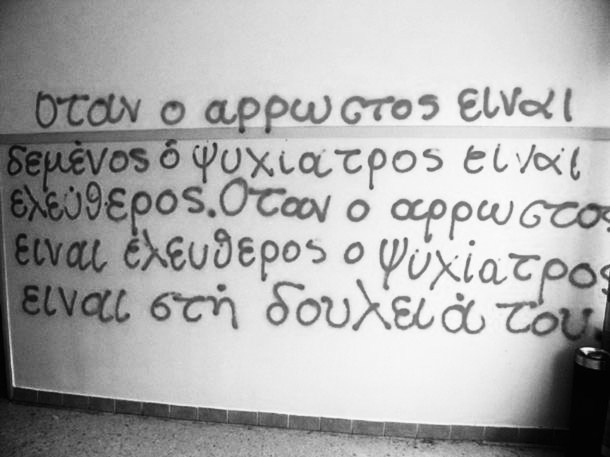 Since the bureaucrats of the Ministry for Health and Social Solidarity (!) worked so hard on a new bill in late August — while many people were on vacation — they managed to announce their well-considered decision to reduce by 50% the 2011 budgeted amount that was intended for mental health-care structures under the Psychiatric Reform Program 'Psychargos'. The other 50% has already been given, although in many cases the workers in these structures are unpaid for several months now.
This decision relates to 210 mental health-care and deinstitutionalization structures (boarding homes, guest houses, sheltered apartments, day-care centres, etc.), 3,050 employees, 1,500 mentally ill people living in them, and even more (about 35,000) people who receive free services.
The consequences were soon to be seen or predicted: arrangements for the dismissal and suspension of staff (bound to lead to mass layoff), mergers and closures of structures, re-confinement of mentally ill in hellholes such as the 'Dafni' – Attica Psychiatric Hospital, along with rumors about reopening the souls' bin on Leros Island.*
It's been several days that people who left notorious lunatic asylums such as the psychocolony of Leros 20 years ago, and have lived in small rehabilitation centres in their local communities ever since, are now forced to go back where they began their arduous journey: in places that have been named madhouses or loony bins for decades.
With the exact same cynicism that the government junta and its parliamentary crutches have abolished the university asylum, the Greek State promotes the asylum for mentally ill in the year 2011.
In this way, the economic politics of Power is turned into a biopolitics and shows its true face: that of a thanatopolitics (politics of death). By distinguishing the life worthy of life from life unworthy of life on the basis of capitalist logic of the largest possible cost reductions, these Nazi-like rulers condemn thousands of mental patients to non-life. They seek either to re-enforce confinement of mentally ill in psychiatric wards under 24hour repression (both drug and 'practiced' repression, e.g. restraint of 'difficult' interns by tying them to their beds), or to send patients back to their families, thus condemning them to probable social exclusion and social isolation, or even to dump them on the streets, ultimately sentencing them to death.

Do they want to dump us on the streets? We will take to the streets!
NO PSYCHIATRIZATION! NO RETURN TO 'LEROS'!
FREEDOM TO ALL IMPRISONED IN 'WHITE PRISON CELLS'
Relevant sources in Greek: 1, 2
* Leros' asylum (colony of mentally ill) was established in 1959, taking over the military installations left on the island by the Italians from the Second World War. The purpose was to contain all psychiatric patients from all Greek mental health institutions, who were deemed untreatable, to one single confinement space. The asylum grew rapidly as 'difficult' patients were shipped to Leros, and by the 1980s as many as 4,000 interns were held there. Political prisoners had also been incarcerated in that hellhole during the Greek military junta (1967–1974).
The horrendous conditions in Leros' asylum generally depict those of the country's other so-called 'mental hospitals'. Almost twenty years since the beginning of the psychiatric reform in Greece — that was never delivered in reality — there is now a big threat for people with mental health issues to return in psychiatric confinement due to severe funding cuts in psychosocial rehabilitation units, as the State is condemning them to extinction.
Leros: Freedom is Curative (2003, English subtitled)
Documentary by Andreas Loukakos which includes horrific scenes; obviously, the Greek authorities attempt to force us to relive such abusive conditions.
On September 15th, 2011, hundreds of young deaf-mutes held a demonstration in downtown Athens, protesting against the funding cut in relation to qualified sign language interpreters.
On September 20th, the workers of the Centre of Education and Rehabilitation for the Blind (KEAT) decided to occupy its premises in Kallithea, Athens, and develop a diverse struggle in coordination with other welfare state institutions, the disabled, parents, and generally the labor union movement to overturn the government's policy.
The same day the employees of the Ministry of Health decided to occupy the ministry's building on September 21st to protest against the cuts in the health care sector. The majority (181 workers) voted for the occupation during their general assembly while the union's board of directors tried to prevent this action!
In addition, the workers in all means of public transport declared a 24hour strike for September 22th. With taxi owners/drivers also participating in Thursday's strike, all transport sectors are on the same side for the first time.

Finally, the Workers' Coordination in Health and Psychosocial Care (syntonistiko03sep@gmail.com) calls for 48hour strike in all psychosocial care structures on September 22nd–23rd.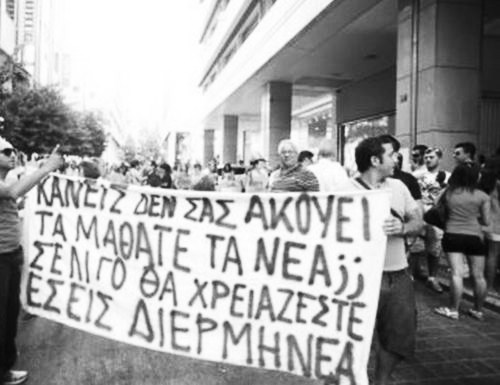 Check also Occupied London for updates