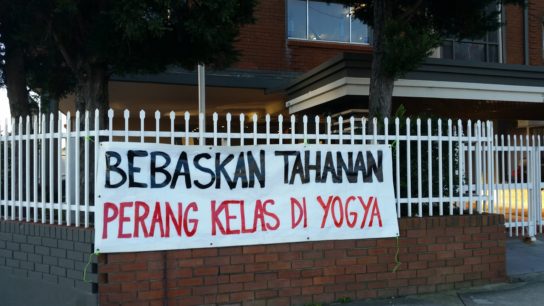 In the context of the annual week of solidarity with anarchist prisoners, some anarchists in Sydney visited the Indonesian consulate in Maroubra on Thursday the 23rd of August.
A banner was tied to the fence around the consulate reading: "Bebaskan tahanan perang kelas di Yogya" (Freedom for class war prisoners in Yogyakarta). Dozens of leaflets were also distributed and scattered outside the embassy.
Anarchists in Yogyakarta have faced a wave of repression following the 2018 May Day demonstration, which saw flaming barricades in the streets, a police post torched and a call for the local Sultan to be killed.
Dozens of anarchists and class war comrades were arrested following the demonstration and a number of them are still in prison facing trail.
We wish solidarity and strength to all anarchist and revolutionary prisoners in Indonesia and worldwide.
in Portuguese | German