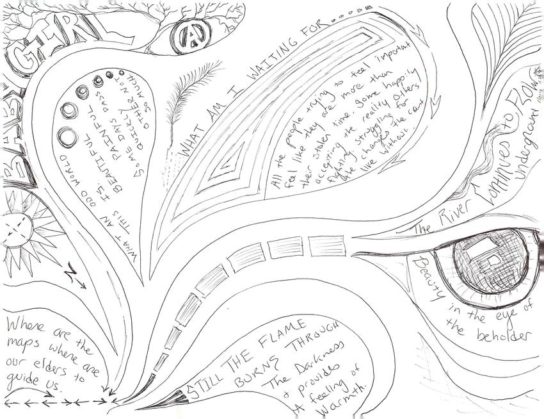 Thank you for the opportunity to issue a statement on the June 11, 2016 Day of Solidarity with Long-term Anarchist Prisoners. First and foremost: as a California prison rebel and trans woman who has been incarcerated for 26 years, I truly appreciate the solidarity and support I've received from sisters and comrades in the struggle internationally.
I was first exposed to anarchist ideas as a young punk rock kid in the 1980s. However, I was not always an anarchist. I had a Christian upbringing in predominantly white, racist neighborhoods in Southern California suburbs outside of the L.A. area. I associated with skinheads and white prison gangs.
I didn't come to prison for revolutionary acts. I was involved in an armed robbery with a couple of homeboys in 1990. We were just young street thugs. I was sentenced to 7 years in state prison.
I became politicized after participating in the 1991 Folsom Prison hunger strike, and in 1992 began a long-term struggle against prison authorities and torture. This resulted in multiple prison terms of 16 years and 25 years to life for assaulting a guard, an associate warden, and Sacramento County prosecutor. I spent 11 years in Pelican Bay SHU solitary confinement (1994-2004).
Several years ago, when I was released from Pelican Bay SHU, I completely renounced my racist past associations and was targeted by the Aryan Brotherhood. As my political development continued in the Prisoner Resistance, in 2007 I "came out" as a trans woman. I fully transitioned my gender identity, started hormone therapy, and joined a Maoist faction engaged in prisoner solidarity work. As a long-time anarchist sympathizer, I simply could not swallow Maoist aspirations for state power, and a "Joint Dictatorship of the Proletariat" that they envision would simply lead to more oppression.
In 2010, I joined Black & Pink as a "leadership" member for 5 years. This led to me becoming an insurrectional anarchist and trans feminist Amazon.
In 2011, I joined the California Prison Hunger Strike to end solitary confinement by doing a 23 hour solidarity strike. At the time, I was just finishing a 3 year long SHU term in Tehachapi for "battery on a peace officer."
Since late 2011, I have been confined here behind enemy lines at Kern Valley State Prison, where I've continued to battle the administration, organize trans women prisoners, and literally fight off homophobic gang violence. My sisters and I have organized a trans-feminine Amazon faction called Loyal Queen Revolutionaries, and we continue to work with outside groups such as TGI Justice Project and the Transgender Law Center in San Francisco in an effort to change the hostile and unsafe prison conditions we face as trans women in male prisons. We will struggle and fight to abolish these oppressive institutions once and for all, by any means necessary! We will resist those who attack us, and avenge the mass rape and murder of our trans sisters.
Viva las Amazónas!
Viva Anarchy!
Solidarity with Mónica and Francisco!
Solidarity with FAI-IRF & the Conspiracy of Cells of Fire!
This is my action, and my statement for June 11th, against prisons and in solidarity with long-term anarchist prisoners. FTP!
Love and Rage!
Jennifer
babygirlgann.noblogs.org
betweenthebars.org