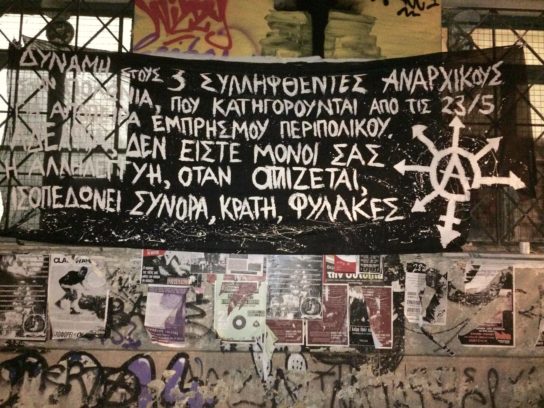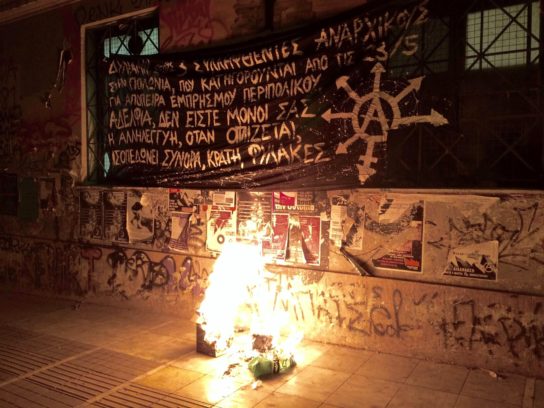 On May 23rd 2016, three comrades were arrested in Poland, accused of attempted arson attack on a police car. They will be held for three months on remand, awaiting trial, and face up to 8 years imprisonment. The comrades denied involvement in the action; one of them was seriously beaten by cops.
The Polish State has spoken of terrorists – as expected from every authoritarian mechanism seeking to maintain its power – and subjected the comrades to public pillorying through the media, wanting to pass a new anti-terror law undisturbedly and "justifiably", with the aim of increasing repression and surveillance.
In their attempt to impose the "Order and Security" doctrine, cops have raided the occupied Radykalne Ogrody Działkowe (ROD – Radical Allotment Gardens) twice already (on May 23rd and June 2nd), investigating the area, searching comrades' homes, asking them questions, and doing ID checks.
We want to send the message that the comrades in Poland are not alone; that's why we hung a solidarity banner at the Athens Polytechnic School (on Stournari Street in Exarchia), which reads: "Strength to the 3 arrested anarchists in Poland, who as of 23/5 are accused of attempted arson of a police car – Brothers, you're not alone – When solidarity arms itself, it crushes borders, States, prisons".
UNRESERVED SOLIDARITY WITH CAPTIVE COMRADES IN POLAND.
ARSON AND FIRE TO COP CARS, PRISONS AND EVERY AUTHORITARIAN TARGET.
HONEST AND RIGHTEOUS PUNISHERS, CORRECTIONAL AND JUDICIAL OFFICERS, COPS, MEDIA, AND THE REST OF AUTHORITARIAN SCUM: YOU HAVE NO REASON TO SLEEP SOUNDLY.
Initiative of individuals from Ochetos ('Gutter') anarchist art group
oxetos.espivblogs.net