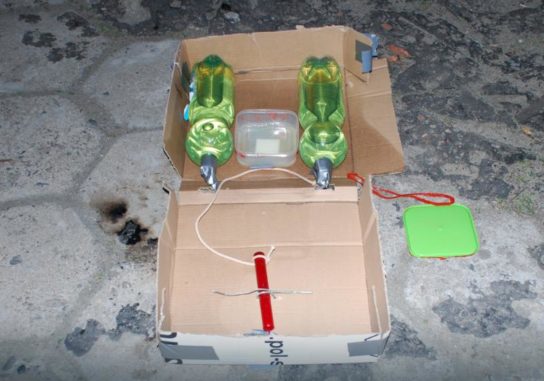 In the early hours of May 23rd 2016, three anarchists were arrested near a parking lot in the Warsaw district of Włochy for allegedly placing a homemade explosive device under a cop car in an attempt to attack the local police station. The three comrades – aged 17, 31 and 35 years – refused to testify and denied all charges brought against them. At least one of them was beaten while in custody.
On the same day, the squatted area of Radykalne Ogrody Działkowe (Radical Allotment Gardens) was raided, searched, and repeatedly 'visited' by cops, who took IDs from all persons present and tried to interrogate the gardeners. (On June 2nd, cops paid another 'visit' to ROD.)
A media frenzy broke out over the arrests. The three anarchists were portrayed as terrorists, and their images were published from the outset. They were sent to a remand prison, where they are to be held for three months awaiting trial. They face up to 8 years imprisonment.
All three squats operating in Warsaw – Syrena, Przychodnia and ROD – and several other collectives of the anarchist and wider social justice community in Poland (see signatures here) released an open letter in solidarity with the three arrestees – stating, among others, that all this occurs at a time when the Polish authorities are pushing for the enactment of a new anti-terror law advocated by the ruling PiS (Law and Justice) party.
Another statement was issued by Łukasz Bukowski, anarchist imprisoned in Poznań, who urged his comrades to stand in solidarity with the three arrestees.
The prisoners have also the support of Grecja w Ogniu counter-information portal.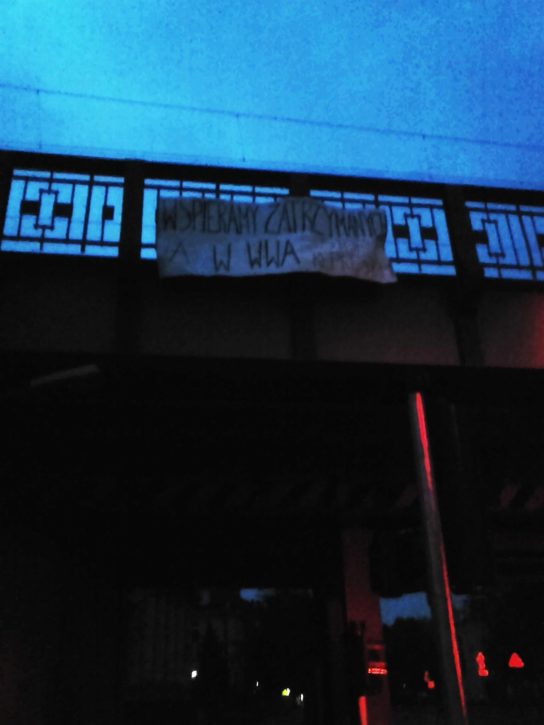 On June 1st, a banner drop in the city of Poznań was accompanied by these words:
"At one of Poznań's overpasses we hung a banner in solidarity with the three anarchists imprisoned in Warsaw.
Our solidarity goes out to the arrested. We don't agree either with the manipulation of the media and the police, or with the attitude of parts of the milieu, that in the case of real repression cut off and criticise those imprisoned, even though they declare SOLIDARITY OUR WEAPON in every picket.
We will always support those who are affected by police violence and those who are firmly opposed to it!"