Responsibility claim & supplementary communiqué,
originally published January 4th 2016: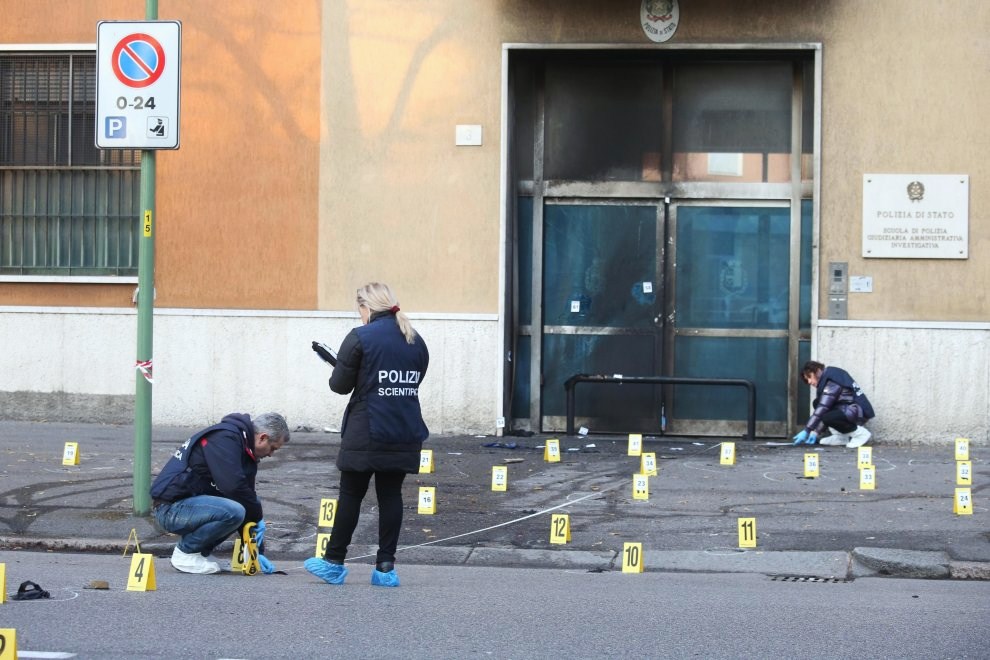 On the night between the 17th and 18th December 2015, we placed an explosive device (containing 8kg of gunpowder) at the police "school" of Brescia. A symbolic action intended to cause material damage.
We took action at such an hour to avoid harming people indiscriminately.
With this action, we've opened up our own projectuality of Anarchist attack, as Anarchist Cell acca (C.A.A.) affined with Black International, and we join the call for action for a BLACK DECEMBER.
We join this path because:
We like the idea of an international coordination of anarchists for direct action.
Our idea of "complicity" goes beyond groups and grouplets.
We use the means we see fit, seeking to increase intensity by paying attention to the smallest details of action. In this regard this act did zero material damage, but it's important that we arm our selforganisation, and especially now, that we sense a great resignation among anarchists in Italy.
We attacked one of the armed wings of the state. Cops from all over Italy and other states are being trained in this "school". This is also a small signal against the war.
We stand in solidarity with people who struggle against all states and the Capital.
Our thoughts go to so many comrades who've been repressed, locked up, tortured or killed in the present and the past. In solidarity with all prisoners in struggle.
This is a signal of complicity with people who've been locked up: Alfredo for having shot Adinolfi; Chiara (NO TAV anarchist) for the attack against the construction site [in Chiomonte]; Nicola Gai, who kneecapped the administrator of Ansaldo [Nucleare] together with Alfredo, and it was the least he deserved; Nico, NO TAV anarchist, ……… .
Monica and Francisco, who resist in Spanish galleys with simplicity and dignity.
Tamara Sol, who showed us how to take revenge for the loss of comrades.
Nikos [Romanos] for his simple and humble contribution to a call for struggle.
The comrades of the CCF.
The comrades who struggle in prison and outside.
*
A response to the text entitled "Under pressure" ["Sotto pressione"; originally published on December 18th 2015]:
The main incentive for action is not the pressure that makes one explode, but the unlimited passion that liberates.
This is what made us arm ourselves that night in Brescia: It's the passion of trying to liberate ourselves from exploitation; it's the passion for a life worth living; it's the passion for freedom.
They're passions and desires transformed into action, some of the most wonderful gestures of life in the face of the pervasive banality of the spectacle. This is the unlimited passion that exploded that night in Brescia.
We ask those who wrote that text these questions:
Don't the actions speak for themselves?
Why speak now about the actions?
We did not enjoy reading "this is the pressure that exploded into the night in Brescia" with regard to this action, although it was said in "good faith." We have not lived it like this.
Actions in themselves do not always speak for themselves, and this is the proof.
Anarchist Cell acca
Source: Informa-azione via Croce Nera Anarchica
Note from Contra Info: Their name is Cellula Anarchica acca, where acca is the eighth (silent) letter of the alphabet, /h/, but may also mean "nothing" (nought, zero). We have no clue what it stands for, so we've left the word untranslated.