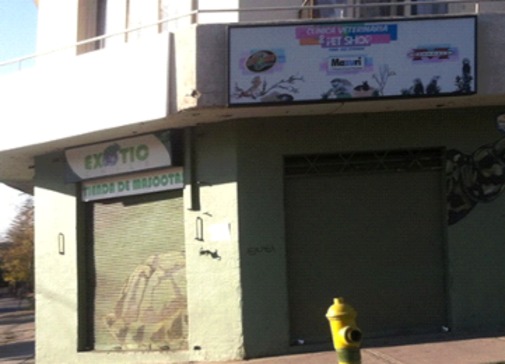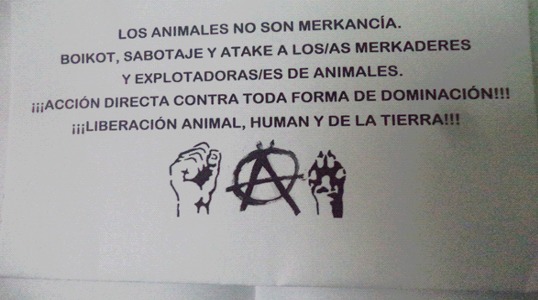 Along with educating and informing, (…) taking yourself out of the laws of the capital system, (…) spraying and sabotaging companies (…) we are not thinking only of the animals but of the whole ecosystem that is getting worse every day. If we should destroy the property of those who support animal exploitation then we will not hesitate to use all our weapons, even burning that evil place.
("Animal Liberation," song by comrade Sebastián 'Angry' Oversluij)
In the capitalist and authoritarian society, speciesism is one of the pillars on which domination is sustained, materializing in power relations that transform animals into objects for human consumption in the form of food, clothing, entertainment, experimentation or as pets under the ownership of a human.
By inserting anti-speciesism as part of the fight against all forms of authority, an everyday life without animal products has as its inevitable complement direct action against the exploiters and merchants of animals.
Thus, rejecting all reformist or victimist logic about animal liberation, we sabotaged the "Exotic" pet shop on the night of December 1st, sealing with liquid steel the padlocks that allow access to the place where animals are sold as merchandise. At the site, located on Departmental Avenue, we left a note so that there was no doubt what our action was about. As the sun rose, the owners could not open their business based on cages and the captivity of non-human individuals; our action fulfilled our goal: to disrupt the normal functioning of the oppression of our lives and that of the animals.
We do not want laws that are more compassionate to animals or larger cages. Our action is an expression of the desire for the destruction of all forms of confinement and domination.
We respond in this way to the invitation made by our compañeros in Greece, Panagiotis Argirou and Nikos Romanos, taking part in a Black December in which we want to intensify the anti-authoritarian transgressive action and the networks of complicity between comrades, seeking to take them beyond a specific moment or month.
To contribute to revitalizing anti-speciesist action in our own territory is also our form of solidarity with the anarchist and vegan prisoner Osman Evcan, on hunger strike since November 10th 2015 in the prisons of the State of Turkey, who risks his life using his body as a weapon demanding the restoration of vegan food in the prison.
So that the anti-speciesist tension is made visible in the offensive anarchic actions through cells of comrades who organize and take action without hierarchies, sharpening convictions combined with creativity, caution and different means and materials to hit multiple points of the network of domination.
Solidarity with Mónica Caballero, Francisco Solar and all anarchist prisoners in Chile and throughout the world.
Insurrect memory of the death in combat of comrade Sebastián Oversluij two years ago.
Animal, human, Earth liberation.
Down with the cages of civilized society!
Sabotage, boycott and direct attack against all exploiters!
"Nocturnal Disorder" Cell.
Informal Anarchist Federation/International Revolutionary Front (FAI/FRI)
Chile – Black December 2015