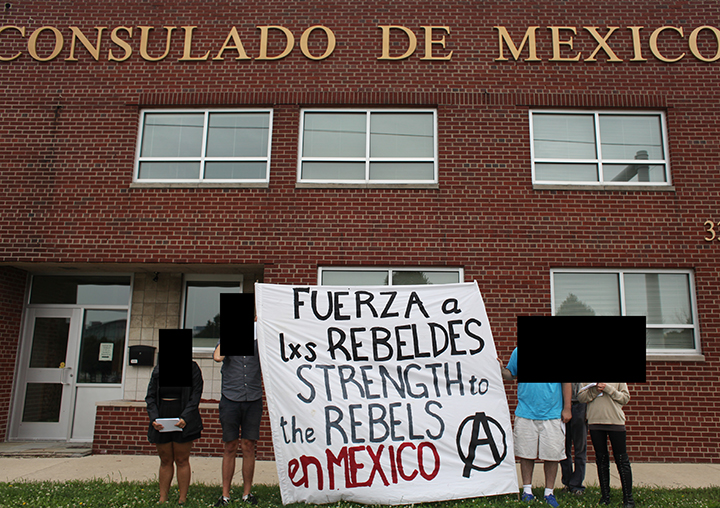 On July 3rd, there was a solidarity demonstration against repression in Mexico, organized outside the Mexican Consulate in Indianapolis, USA.
The text of the flyer distributed during the demonstration:
On June 16, 2015, the Anarchist Black Cross-Mexico, an anti-repression organization, released word describing an escalation of the harassment and surveillance they experience at the hands of the Mexican state.
This is just the latest clamp down doled out by the Mexican government:
– In September of 2014, 43 student rebels from a rural teachers college in Guerrero who were involved in educational protests were disappeared, likely by local law enforcement and crime syndicates. Demonstrations in response to the kidnappings have been met with continued violence by the police. Nearly a year later, only one of the bodies has been found.
– At the beginning of June 2015, a militant teacher, Juan Villegas Tenorio, was beaten to death by police during a protest. Two other teachers at the event were beaten by police but survived.
– An increasing number of revolutionaries are facing long prison sentences, including Abraham Cortes, who was recently sentenced to 5 years and 9 months. Other anarchist prisoners currently facing extreme prison sentences include Fernando Barcenas and Fernando Sotelo.
– A new hunger strike has been announced in the prisons around Mexico City. The primary demand in this hunger strike is the end of torture in the prisons.
– Since the beginning of June, protests have erupted across Mexico, including a demonstration by 6,000 teachers at the city center in Oaxaca. These protests call for a boycott of the elections: "To Vote Is To Lie."
With all this repressive violence, the Mexican state hopes to control popular rage, but it's only succeeding in spreading resistance. We are here at the Mexican consulate today to call attention to these struggles, and to express our solidarity with these diverse rebels, and others who suffer at the hands of the state. We hope this is a small step toward spreading these rebellions.
Down with every border and prison!