"From the 18th to the 25th of January 2013 I take the initiative—always weak but still an initiative—to conduct a hunger strike so as to break once again the lengthy silences imposed by repression and inaction, to raise yet another voice, a weak voice but at least one of solidarity, appreciation and participation in the initiatives of those who continue to act and build solidarity and active struggle, of those who continue to dare and enhance continuity inside and outside the prisons."
—Excerpt from Marco Camenisch's latest communiqué from Lenzburg prison, in Switzerland, against the upcoming annual meeting of the World Economic Forum in Davos and always in solidarity with either imprisoned or fugitive comrades in struggle, as well as in support of the various initiatives and groups that fight for comrades' liberation across the world.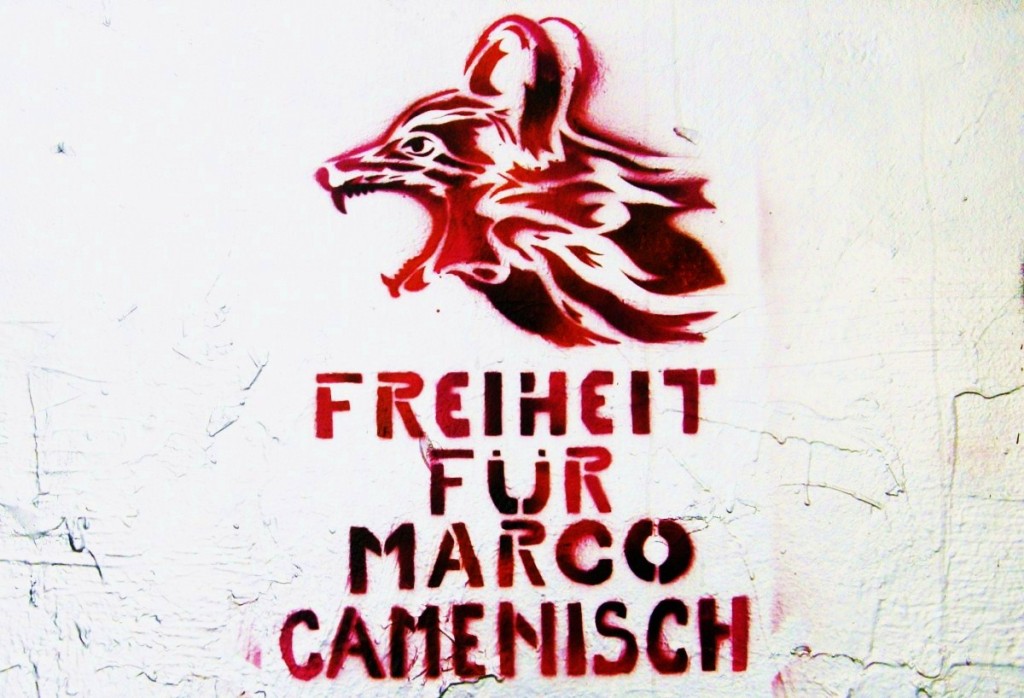 Anarchist comrade Marco Camenisch has been incarcerated for a little over 21 consecutive years, thus he qualifies for early conditional release since he has already served 2/3 of his sentence. For this reason, solidarian prisoners in Italy have also agitated for actions against targets-structures of Swiss interests.
Here's a worldwide call of decentralized action days for 5–6 February 2013:
"Anarchist prisoner Marco Camenisch has been confined in Italian and Swiss prisons for two decades. In the 70s and 80s, he took part in the militant struggles of the anti-nuclear movement. The first time he was incarcerated was in 1981. After he escaped from the Regensdorf hellhole (near Zürich), he was locked up again in Italy in 1991. In 2002 Marco was delivered to the Swiss authorities by the Italian statist thugs. By 2012 he had served two thirds of his prison sentence. The usual practice in Switzerland is that prisoners who have exhibited so-called good conduct are released from prison on probation after serving two thirds of their sentences. Since Marco never ceased to struggle even in prison, and firmly expressed his hatred towards the dominating system as well as his green-anarchist perspectives, his release from prison was repeatedly denied.
Marco is just one among many. There are people incarcerated worldwide who have not been suppressed by these exploitative relations of domination, and continue to fight for their ideas. And prisoners are only a small part. Everywhere people are fighting against the oppression of authorities and institutions outside the walls. Along with our everyday struggles, it's always important not to forget our comrades who are behind the walls and not let them rot in prison.
Prisons are an expression of a society based on repression and exploitation. More and more individuals who have opposed the established order are being locked up or labeled as mentally ill. Custody is the suitable instrument in the hands of Power that gives the dominators the opportunity to get rid of resistant people and still maintain their hypocritical constitutionality.
Let us not be intimidated by their threats and repression apparatuses!
It is clear to us, freedom must be fought for!
It cannot be asked for as a claim to the State!"
No need to wait until then. February can only be the peak of action. There is an ongoing solidarity campaign which began with the December 2012 hunger strikes of anarchists Gabriel Pombo Da Silva and Elisa Di Bernardo in German and Italian prisons, respectively, as well as a solidarity action in court by the anarchist prisoners Theofilos Mavropoulos and members of the R.O. Conspiracy of Cells of Fire in Greece.
Arm yourselves now… until Marco is free!