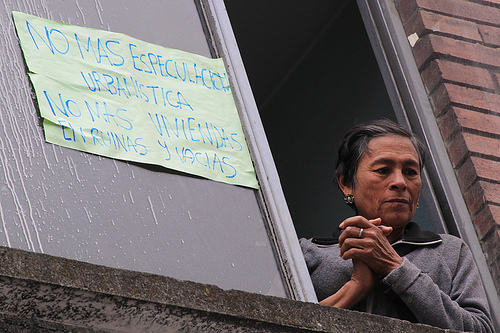 On Friday, October 5th, 2012, in a day of solidarity with displaced squatters in Bogotá, approximately 25 people gathered from 12.00 to 2.30pm in front of a squatted residential building at the corner of 47th street and 7th avenue, in order to publicly denounce the appalling housing situation in Colombia and to factually support more than twenty people already displaced from their homes in other locations.
On the same day, prisoners who are organized in the Anarchist Black Cross–From Within (CNA–Desde Adentro, from a prison in Bogotá) declared their solidarity with the squatters on 47th street.
On Sunday, September 30th a group of five families occupied the aforementioned building, which was abandoned for a decade, and are now threatened with eviction. Among them are six children and a woman over 80 years old.
Despite the presence of national police forces, who guarded the premises 24 hours a day, preventing free entry and exit to its truly legitimate new residents, and despite pressure from the 'legal' speculative owner, who had recently sealed off the doors, the activity took place in an atmosphere of joy and fraternity, bringing together the families of squatters with students, youths, teachers, workers and others.
The intervention was called by the anarchist group Bifurcación (formerly known as Anarchist Black Cross) and the libertarian group Vía Libre, and was also supported by the Alternative Educative Collective, the journal Desde Abajo ('From Below') and the Anarchist Student Group.
Protesters chanted slogans such as 'One eviction, another squat', distributed hundreds of fliers and waved placards against property speculation, in favor of the struggle for a decent roof, and in defense of squatting, arousing the sympathy of bystanders and drivers who showed their spontaneous support to this struggle.
Supporters managed to collect several kilos of food products, blankets, diapers and other useful items for the residents of the building. Participants renewed the call for solidarity with the squatters, taking an initiative for upcoming actions.
sources/more photos: i, ii, iii, iv

From London to Bogotá, Squat the World!