Following numerous solidarity actions and rallies concerning those arrested and prosecuted since the protest on February 12th in Athens, here follows a new call to an open-air DIY live concert with the aim of immediate financial aid for the 4 men that are currently held under pretrial detention in Greek prisons. It must be emphasized that they were caught during a huge protest and massive riot in Athens, when several buildings were engulfed in flames, and have been remanded for over four months now, charged with severe felonies. Among them are our anarchist comrade Vaggelis Kailoglou and the comrade Panagiotis K., who was a member of Aghia Paraskevi residents' open assembly. All four of them are preparing to appeal for their release.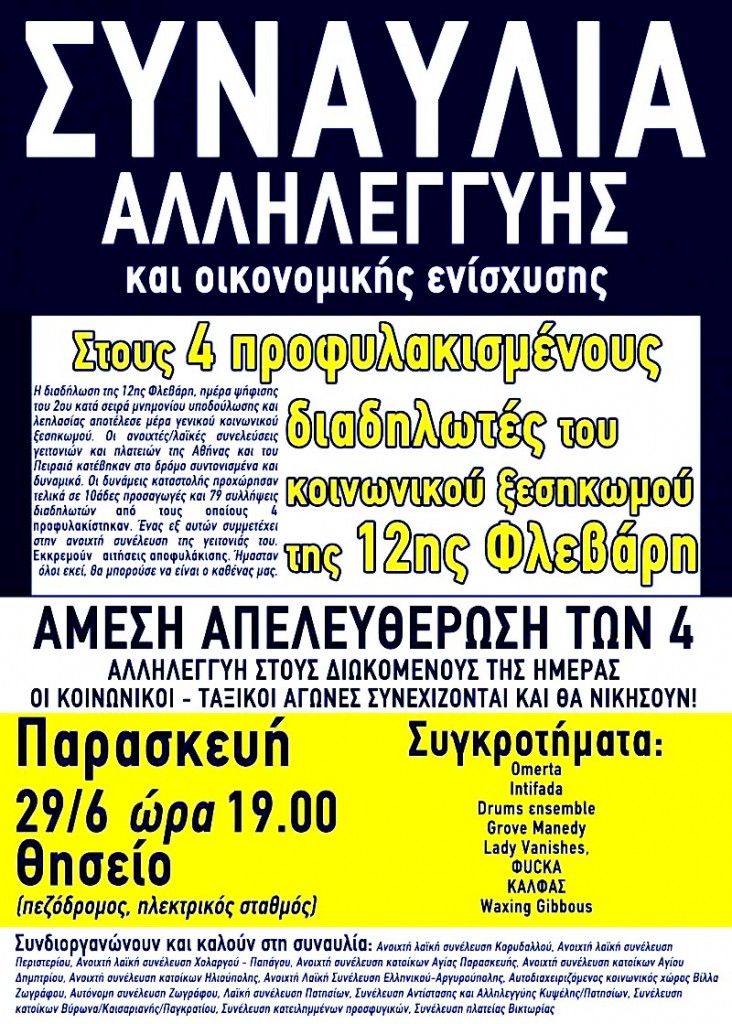 On Friday, June 29th, at 19.00, a solidarity concert will be held in Thissio for financial support to the four demonstrators who have been remanded in custody since February 12th, 2012.
The demonstration of February 12th, which was marked by the voting of the second consecutive memorandum—the new loan agreement of enslavement and plunder—was a day of general social upheaval and insurrection. The people's assemblies from neighbourhoods and squares of Athens and Piraeus took to the streets coordinated and dynamically. The repressive forces staged a dozen detentions and 79 arrests of protesters, of whom 4 were remanded in custody. One of them participated in his neighbourhood's open assembly. Applications for their release from prison are now pending.
We were all there; it could be any one of us.
Friday, June 29th, by 19.00 in Thissio, Athens
eight bands will perform live at the pedestrian area
near the Thissio metro station (ISAP)
IMMEDIATE RELEASE OF THE FOUR REMANDED IN CUSTODY
SOLIDARITY WITH THOSE PROSECUTED SINCE FEBRUARY
SOCIAL/CLASS STRUGGLES CONTINUE AND THEY SHALL WIN!
The grassroots assemblies that invite you to this concert are: Koridallos open popular assembly, Peristeri open popular assembly, Holargos–Papagou open popular assembly, Aghia Paraskevi residents' open assembly, Aghios Dimitrios residents' open assembly, Ilioupoli residents' open assembly, Elliniko–Argyroupoli open popular assembly, Self-managed social space of Villa Zografou, Zografou autonomous assembly, Patissia people's assembly, Assembly of resistance and solidarity Kypseli/ Patission, Vyronas/ Kaisariani/ Pangrati residents' assembly, Assembly of the occupied refugee building (at Alexandras Avenue), Victoria square assembly
source —includes many resolutions/announcements in solidarity with those remanded in custody and detained on February 12th