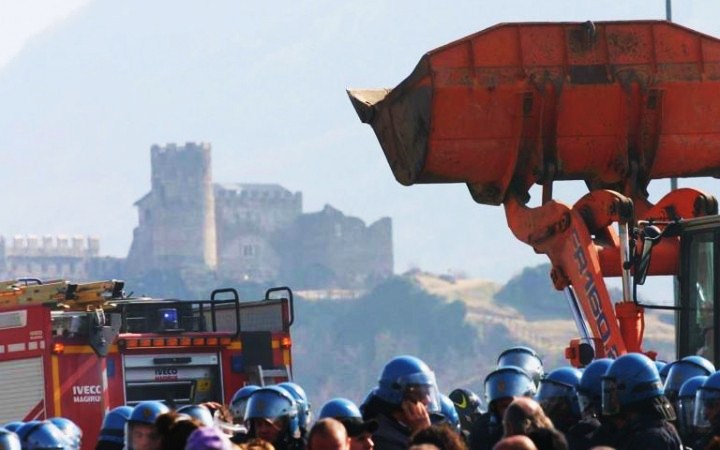 A little over three weeks after the events in Clarea, on Monday, February 27th, it seems appropriate to communicate to all friends and comrades who are close to me a few more precise information regarding the state of my health.
As you already know since a few days my life is out of danger, but even if the situation improves, my condition is still quite serious.
The worst wounds I find myself having to heal are the result of burns caused by the electrocution from electric current, but now there's definite improvement in the damages from the fall.
In the coming days, I will undergo more plastic surgeries to treat areas of the body which are covered with burns.
I am still pinned down to the bed and not self-sufficient in the movements of my limbs, thus dependent on nurses and relatives for daily tasks.
However, I want to thank all those who have stood next to me until now and made me feel their presence and solidarity.
I ask from all of you to show a little more patience (I should be the first to have it), until I'm able to embrace and salute you in good shape.
Special thanks go to my relatives and my companion Emanuela, who have had to overcome a difficult moment; also for this reason, I ask everyone to ease the pressure towards her, since she already has to handle multiple roles in this affair.
I will make sure to contact you personally as soon as things get better, enabling me to meet and hug you more calmly.
At this moment, I'm justifiably subject to the strict rules of the 'special wards' of the CTO hospital in Turin, therefore have strong restrictions on visits, reserved for relatives and close friends.
My request is that this letter may circulate among all various situations which have followed the progress of my case, yet hoping that it won't become the subject of journalistic speculation. I'm glad to receive your news and contacts, but cannot guarantee I will answer everyone soon.
The address at which you could write me is: Frazione Cels Ruinas 27 – 10050 Exilles (TO), Italia
From a hospital bed, 21-3/2012
Strength and joy to all.
Luca Abbà
sources notav.info, culmine / translated in collaboration with parolearmate
http://www.youtube.com/watch?v=8mnSBPyaLkY
Slogan from the barricades of Val di Susa, chanted across Italy:
We go and return together, Chiomonte as Athens, we are all black block; the cop in the construction site will tremble when NO TAV will come. Atene… Atene…

Strength, Luca! Strength, NO TAV!