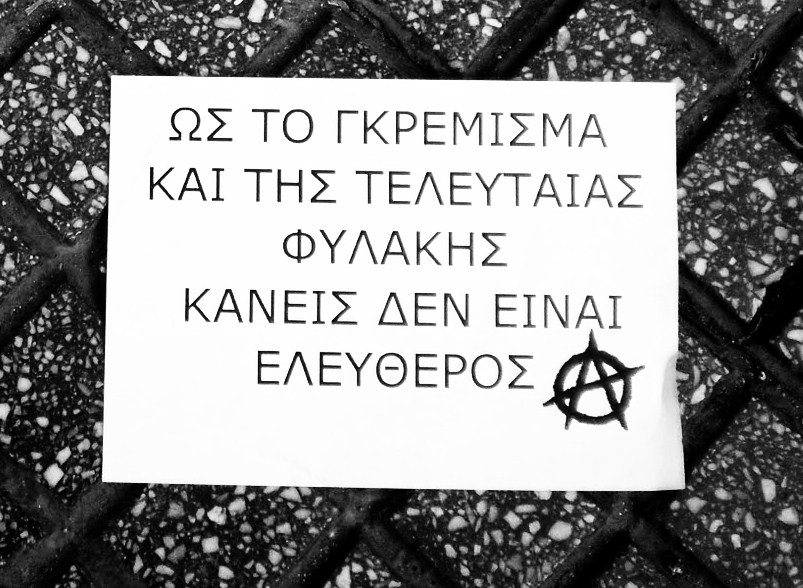 On April 1st, 2012, I will complete 6 months as undertrial inmate in Koridallos prisons. Currently I am the only prisoner for the Revolutionary Struggle case.
The last two years I have lived in a peculiar hostage status, completely detached from my close environment, without the ability to work, study, communicate and participate in the processes of the political space I affiliate myself with.
A cruel and unjust political and economic system, which is in crisis, is trying through the criminal law to bend every effort of social resistance.
The rationale upon which the prosecution against me was based is totally arbitrary, a product of individual estimates and speculations by the assignees of the ministry of system protection.
On March 27th, at 10.00 in the morning, I am called to appear before the appellate judges' council [in Athens], in order for the extension or not of my so-called temporary custody to be examined.
Knowing the climate of repression that prevails towards all social fronts, I do not know if I can hope for a positive decision. Either way, I will continue to resist the police and judicial machinations.
We must prevent repression whatever form it may have, and express our practical solidarity with all imprisoned fighters of the class and social war.
Kostas Katsenos, 23-3/2012
F wing of Koridallos prisons