On
5 January a cop of the DIAS motorcycle police force ran over a 6-year old Roma girl in the area of Menidi in NE Athens (where there are Roma's settlements). According to eye-witnesses, the six-year old girl was run over as she was on the streets, where she was singing carols with other children (in Greece, children sing carols on the Eve of the Epiphany day). The eye-witnesses also claim the policeman dragged the girl along for 150 metres and did not stop to offer any help. Approximately 100 people gathered at the spot of the assassination and attacked the riot police once the news of the girl's death broke out (photos here).
The same evening, the murderer of the DIAS motorcycle police appeared before a prosecutor general and was released on bail, despite the testimonies of locals that he abandoned his underage victim.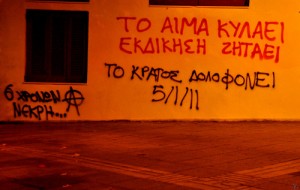 In response to the killing and the immunity offered to one more policeman, an impromptu anarchist demonstration was held in the northern city of Thessaloniki while an information gathering was held in the city of Larissa.
Demonstrations on 6 January, across Greece:
– Larissa, Tahidromeiou Square, 4pm
– Xanthi, called by Autonomous Centre (Steki), 4pm
– Athens, Propylea, 6pm
The girl's fatal injury in Menidi was not a random occurrence, but adds to a series of 'achievements' of the repressive State's apparatus, and in particular the DIAS motorcycle police force. With the permission of their political bosses, they repeatedly attack riding on motorcycles against demonstrators and many others. A few examples are the attacks during the demonstration in December 2009, the serious injury of a demonstrator and the cops' impunity, the attack on 2 November 2010 in the city of Volos, as well as the attacks during the demonstrations on 15 November and 15 December (day of general strike).
http://www.youtube.com/watch?v=CfP2FXVQrpk&feature=player_embedded
There will be updates / Read also occupied london