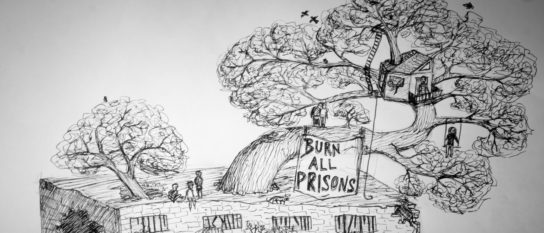 source ABC Rhineland
For two weeks RWE, with the assistance of a large police-deployment from all over the country, has been evicting the Hambach Forest-occupation, near the city of Cologne. Since Sunday 9/16 further two people are in custody jail. This means that all in all five activists are imprisoned in custody jail.
The police arrested the two anarchists on Saturday. They are not officially known by the police. They allegedly locked-on together in a tree-house, in the occupation "The North". The state prosecutor and the judge are accusing them both of "Strong case of resistance towards enforcement officials (Vollstreckungsbeamte)", §113 Abs. 2 StGB.
The imprisoned activist Winter, became an internet-sensation, as a moving speech directly after the arrested was shared on social media. "They are probably thinking that they have won, but they can't win, because they need the forest just as much as we do. They also can't win the fight, because so many people out there stand behind us. And they just don't understand, that we don't fight for just us, but for all of us," said Winter at the arrest.
Landing in custody jail on the background of these allegations, is only possible through the law-change of the "Penal code (StGB)" from the end of May 2017, where the minimum sentence for "Resistance against enforcement officials" was raised to 6 months. Furthermore, there was the decision by the Higher Regional Stuttgart, in the context of the "Stuttgart 21 Protests", in which locking-on "in anticipation of police-deployment" was valued as equal to "violent resistance". Both of these are sharpenings of the law, that particularly are directed towards leftist activists.
For three days the accused were not given the possibilty of contact with their lawyer – also in front of the judge & magistrate. Jazzy said, that she throughout the days clearly had demanded to see her lawyer, and stuck to her right to legal defense. In her speech, Winter talked about not identifying yourself: "They will never understand, how it is to live with people, for whom it doesn't matter what your name is."
The Anarchist Black Cross, in its role as prisoner-support, gives the advice: "No person must assist in their own legal prosecution. On this question we point to §136 StPO, which gives the elementary right not to give your identity, even though this is often misused or forgotten in trials. We are asking all people close to the imprisoned people, to accept and support the wish of Winter."
More information about the Hambacher Forst prisoners under: abcrhineland.blackblogs.org
in German l Portuguese