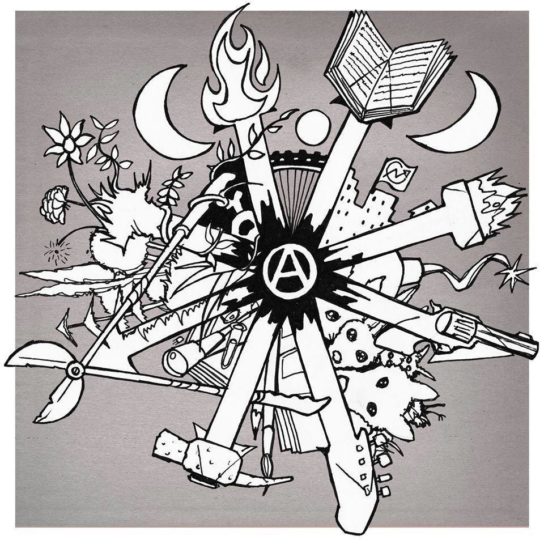 Received and revised at 05/09/17
This is a letter from the libertarian prisoner Marcelo Villarroel concerning the case of Santiago Maldonado who is still missing. It also has a call for action. His words are welcome by us!!!
Fire to the prisons!!! We want our comrade Santiago Maldonado alive now!!!
translated by tormentas de fogo
CONSTANT STRUGGLE AGAINST ALL JAILS, AMNESIA AND COWARD PASSIVITY!!!
These words are born and become necessary at the same time when it is necessary to embrace all those who give themselves without limits when seeking encounter with total liberation.
For the expansion of the revolt, for the unequivocal confrontation with power, for the extension of autonomous practices to deny domination and everything that makes possible its existence.
As I write, hatred and anger guide me… While each person realizes his life, there is a dear friend missing…
SANTIAGO MALDONADO – el "Lechu", el "Brujo", disappeared.
And I can not stay silent or ignore his physical absence.
Since we had to live prison in the region dominated by the Argentine state, our steps crossed. There were us, the prisioners in the province of Newken and there was Santiago, in the city of La Plata, next to a universe of active comrades, sharing complicity and standing in solidarity…
It's been more than 9 years since our footsteps have crossed the continuous path of the brotherhood, this path that sets both of us on the same side of the trench.
Because we have to say clearly: We are at war against oppression and misery! Against all the police, states, countries and cowards that accommodate their speeches and lives to make it harmless and integrated.
There is no way to forget that we who have decided to continue the offensive take permanent risk. We are not passive victims of circumstance nor mere spectators.
Just like Santiago, a person in complete coherence with his anarchic feelings, who is missing since August 1st, when he was kidnapped by the Gendarmería (intermediate force between the Police and the Army), while actively supporting the Mapuche struggle in Cushamen, province of Chubut, in the south of Argentina and near the Chilean border.
It's been a month already and Lechuga did not show up. And although Santiago is among all of us who do not forget or abandon the daily struggle, his physical presence is lacking.
We will bring him back by striking blow by blow, multiplying his gestures and actions throughout the planet against the miserable ones responsible for his disappearance.
From prison, today, my call is to deepen the attack against amnesia and fear. Because those who say they believe in anarchy must act in accordance with this conviction.
Hundreds of revolutionary prisoners around the world united by similar convictions, we are the living expression of a struggle with no nations and no borders that seeks the total destruction of all the chains, cages and prisons where most of the people on this planet are living.
These are times of combat, we can not hide the obvious.
The rebellious and ancestral fire is incinerating the machines of predatory capital, the insurrectionist blood spilled from our fallen comrades is among our war rituals, our silent conspiracies seek the only possible justice: vengeance becomes urgent and necessary.
FOR SANTIAGO AND ALL COMRADES THAT DIED: NOT ONE SINGLE MINUTE OF SILENCE BUT A WHOLE LIFE OF COMBAT!!!
INTERNATIONAL SOLIDARITY AND FRATERNITY FOR THE DESTRUCTION OF ALL PRISONS!!!
UNTIL THE DESTRUCTION OF THE LAST BULWARK OF THE PRISON SYSTEM-SOCIETY!!!
AS THERE IS MISERY, THERE WILL BE REBELLION!!!
Marcelo Villarroel Sepúlveda, libertarian prisoner.
High security level prison.
Santiago, Chile.
August 30, 2017.
in spanish l portuguese