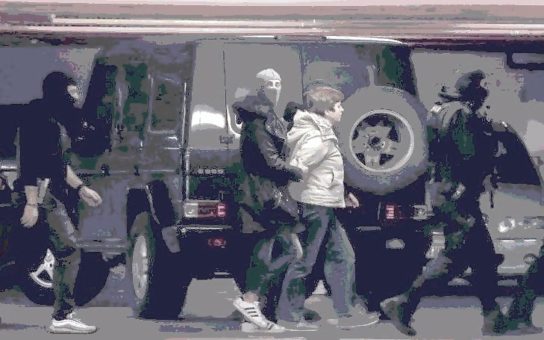 In the early morning hours of January 5th 2017, two Revolutionary Struggle members, fugitive comrade Pola Roupa and anarchist Konstantina Athanasopoulou were captured at a southern suburb of Athens. Anti-terror cops raided a hideout with Pola and her six-year-old son inside, while Konstantina was arrested in another house nearby.
After being forcibly removed from his mother, Lambros-Viktoras Maziotis Roupas—the small son of Revolutionary Struggle members Nikos Maziotis and Pola Roupa—is being held captive inside a children's hospital guarded by cops(!), without any access to visitations by his close relatives or even the legal representative of his parents.
The Greek authorities, and in particular the public prosecutor for minors Mrs. Nikolou, still refuse to entrust the child to first-degree relatives of Pola Roupa.
In response to this, three Revolutionary Struggle members—the anarchist prisoner Nikos Maziotis, the recaptured comrade Pola Roupa and the newly arrested Konstantina Athanasopoulou—have undergone hunger and thirst strike since January 5th, demanding that the six-year-old be immediately placed with his aunt and grandmother (relatives on his mother's side).
In an open letter Nikos Maziotis stated, among others, that: "Our son is the child of two revolutionaries, and he's proud of his parents. We will not succumb to any blackmail. We defend our choices with our very life".
On January 6th, during the women's transfer to Evelpidon courts, Pola shouted: "The worms are holding my kid captive at Paidon (children's hospital in Athens), guarded by armed cops; at the age of six, he is a prisoner of war" and: "Long live the Revolution!". Furthermore, Pola stated: "I am a revolutionary, and I have nothing to apologize for."
Below is Konstantina's statement:
"I am an anarchist, member of the armed revolutionary organization Revolutionary Struggle (Epanastatikos Agonas). The only terrorists are the State and the Capital. I refuse to eat and drink anything until the child of my comrades Pola Roupa and Nikos Maziotis is delivered to relatives of theirs.
Konstantina Athanasopoulou"
On the inside, anarchist prisoners and other inmates at different wings of Koridallos male and female prisons have mounted a joint protest by refusing lock-up, to claim an end to the captivity of Lambros-Viktoras in solidarity with the Revolutionary Struggle prisoners currently on hunger and thirst strike.
On the outside, comrades in various cities throughout Greece have carried out diverse actions in immediate support of the anarchist revolutionaries, demanding that the first-degree relatives of Pola Roupa be granted immediate visitation and custody of the underage child.
Strength to Konstantina Athanasopoulou, Pola Roupa and Nikos Maziotis, proud members of Revolutionary Struggle.
Revolutionary Struggle will neither lay down arms nor surrender to the enemies of freedom.
in German | Italian | Portuguese