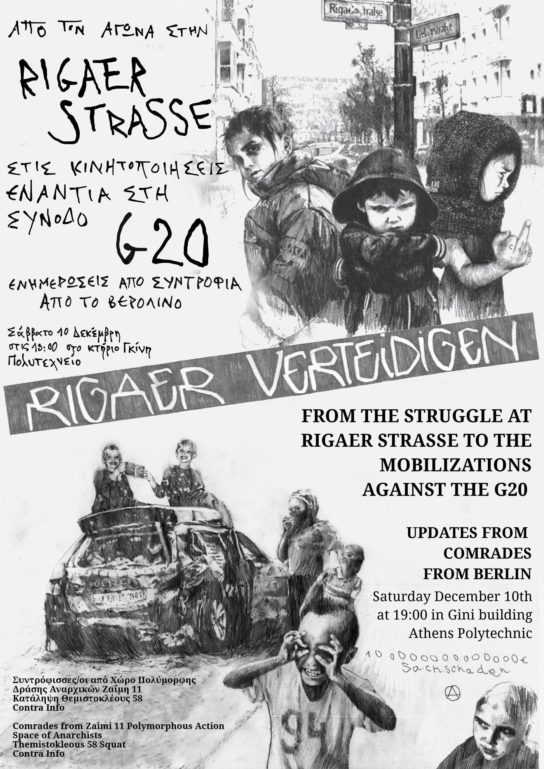 From the struggle at Rigaer Strasse (Berlin)
to the mobilizations against the G20 (Hamburg)
This summer Berlin was the center of a showdown between the police and the remaining parts of what once was a squatting movement. The reason behind was the attempted eviction of the squatted parts of the housing project Rigaer94. Rigaer94 is located in the northern part of Friedrichshain, which has a long history of struggle against state influence. The three weeks of siege of the 94 immediately became a crystallization point for a joint counterattack by anarchists that culminated in the call for a Black July, expressing the ideas of the polymorphous anarchist struggle in action. Strengthened by the battle which led to a small victory by successfully defending the Rigaer94 against the eviction, the offensive carries on in the upcoming mobilization against the G20 summit in Hamburg in July 2017. There are already international calls for decentralized actions in order to create a dynamic that invites all the rebellious fighters that are able and willing to attack to Hamburg.
Comrades from Berlin will report about the struggle against gentrification in Berlin and the role of the Rigaer94, as well as about ongoing projects of anarchists.
Saturday December 10th at 19:00, Gini building
Athens Polytechnic School (entrance from Stournari St.), Exarchia
Comrades from Zaimi 11 Polymorphous Action Space of Anarchists
Themistokleous 58 Squat
& Contra Info translation counter-information network