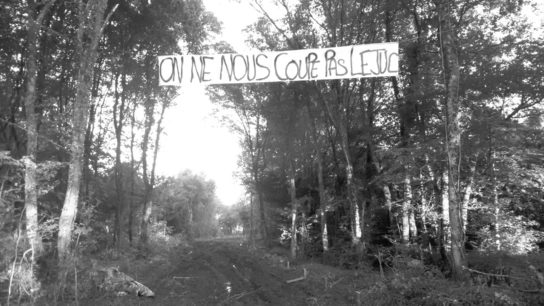 Recently we published an emergency call-out concerning the situation of our fresh, small but active forest occupation standing against the nuclear monster Andra and its CIGEO plan. On 24th of November, our eviction threat got concrete. The environmental authority decided to free Andra from carrying out an environmental impact study, opening its way towards the final destruction permit.
That very morning the blue team opened the game.
After the é'th decision, they are attempting to penetrate their way into the forest by any possible means. Sometimes they use excuses like «replanting trees», or civilian cops coming for a walk with their «families» on Sunday afternoons. Today they paid us three consecutive visit at the entrance barricade between 6:30 and 8 AM. Finally, they even tried to take that barricade* with a comical attempt to appear credible in our eyes. Obviously they are testing our reactions and trying to wear us down so they can plan how to come next.
As the blue team opened the game, come and play with us! We are urgently asking reinforcements to come. The first official squatter of the Lejuc woods, Sven Lindstrom, decided to do his bit in making eviction matters more difficult for Andra by changing his home address in to the woods and throwing a themed birthday party on 13.12. As the first party crashers have now rattled at the gates, we urge our friends to come bounce them out of the forest next time they show up.
«Come in, bring your own beer and plenty of friends!» Sven wishes to add.
While we are taking our stand against the destruction of the living planet in the name of short-term profit, other good people are taking their stand elsewhere. With love, rage and solidarity we wish to encourage those facing the full force of repression in Standing Rock, North Dakota – one struggle!
Route plans and directions for visitors to come at: en.vmc.camp
* Luckily, we have many. All over the place. Defend them with us!
in German