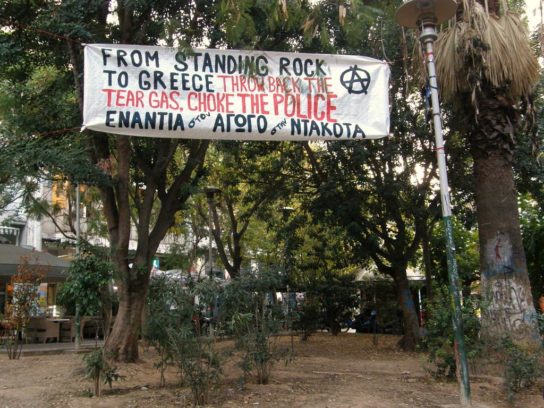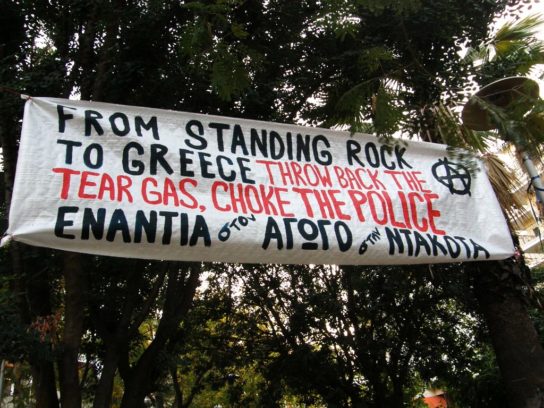 In the afternoon of November 24th 2016, we dropped a banner in Exarchia Square against the Dakota Access Pipeline, currently under construction in the US. This oil pipeline runs a distance of nearly 1,172 miles, from North Dakota to Illinois, and its cost is estimated to be around 3.7 billion dollars. In its destructive path, this mega-project is causing irreversible damage to territories, rivers and surrounding communities.
Among the affected areas is also Standing Rock reservation in North Dakota, where residents alongside people in solidarity resist the police, forces of the US army, and security guards of the groups assigned to construct the pipeline (Energy Transfer Partners being the main contractor). Repression has been so harsh over the last days, that among the hundreds who were injured there's also an activist whose hand was amputated because of a concussion grenade fired by cops.
At the same time, there have been many actions of resistance in various cities across the US and beyond, with rail-track and train blockades, direct actions and symbolic gestures of solidarity.
We send strength to anarchist comrades and all others who fight in an anti-institutional, anti-hierarchical manner and without mediators against the construction of the pipeline, showing what it really is: one among the tentacles of domination draining the Earth.
Our opposition to this and any other mega-project of the techno-industrial civilization stems from the conviction that the Earth belongs to no one; from our need to defend by all means necessary everything that has remained untamed and wild in this artificialized world. Beyond any rhetoric of "ancestral" or "sacred" lands, we support the particular struggle until the liberation of the entire planet.
AGAINST THE OIL PIPELINE IN DAKOTA
ANATIONAL STRUGGLE AGAINST STATES, CAPITAL AND DOMINATION
(Α)
in Greek