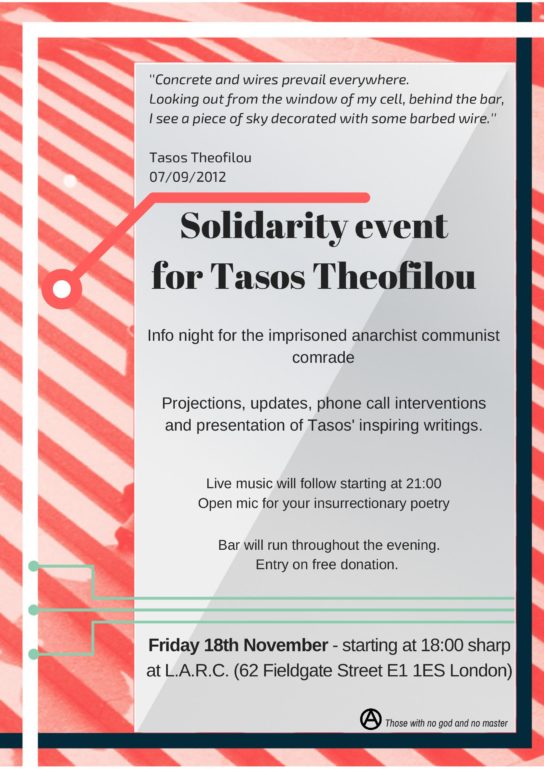 "Concrete and wires prevail everywhere.
Looking out from the window of my cell, behind the bar,
I see a piece of sky decorated with some barbed wire."
Tasos Theofilou
Join us on Friday 18th of November for our info night event in solidarity with the anarchist communist Tasos Theofilou who is currently in prison, after being sentenced on the basis of forged and non existent evidence. He was convicted just because he is an anarchist. He was convicted because he didn't lose his smile even when the court of first instance announced his sentence.
Projections, case updates, phone call interventions and presentation of Tasos' inspiring writings…
Bring your insurrectionary poetry for our open mic!
Starting at 18:00 sharp at L.A.R.C. (62 Fieldgate Street E1 1ES London)
18:30 Phone call intervention with comrades in Athens, Greece
20:00 Phone call intervention with imprisoned comrade Tasos Theofilou.
Live music will follow, starting at 21:00.
Bar will run throughout the evening. Entry on free donation.
Feel free to spread the word!!!
See you all there!
P.S. Please respect the fact that we do not wish this event to be republished on social media such as Facebook, Twitter etc.
Anarchists in Solidarity