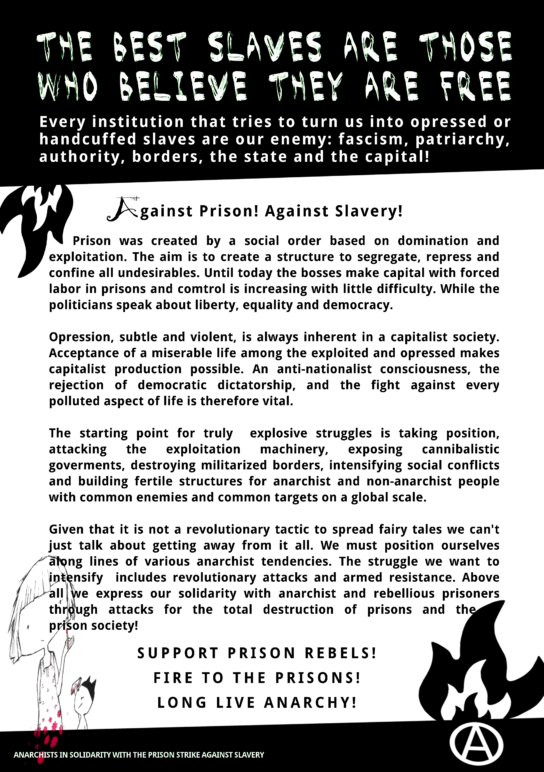 The poster "Against Prison! Against Slavery!" is a small contribution from anarchists in Austria to the global Week of Action from 15th to 22nd October.
We send our solidarity to all prison rebels!
Strength to the striking prisoners in the US and beyond!
Text from the poster:

THE BEST SLAVES ARE THOSE WHO BELIEVE THEY ARE FREE
Every institution that tries to turn us into oppressed or handcuffed slaves are our enemy: fascism, patriarchy, authority, borders, the state and the capital!
Against Prison! Against Slavery!
Prison was created by a social order based on domination and exploitation. The aim is to create a structure to segregate, repress and confine all undesirables. Until today the bosses make capital with forced labor in prisons, and control is increasing with little difficulty, while the politicians speak about liberty, equality and democracy.
Oppression, subtle and violent, is always inherent in a capitalist society. Acceptance of a miserable life among the exploited and oppressed makes capitalist production possible. An anti-nationalist consciousness, the rejection of democratic dictatorship and the fight against every polluted aspect of life is therefore vital.
The starting point for truly explosive struggles is taking position, attacking the exploitation machinery, exposing cannibalistic governments, destroying militarized borders, intensifying social conflicts and building fertile structures for anarchist and non-anarchist people with common enemies and common targets on a global scale.
Given that it is not a revolutionary tactic to spread fairy tales, we can't just talk about getting away from it all. We must position ourselves along lines of various anarchist tendencies. The struggle we want to intensify includes revolutionary attacks and armed resistance. Above all we express our solidarity with anarchist and rebellious prisoners through attacks for the total destruction of prisons and the prison society!
SUPPORT PRISON REBELS!
FIRE TO THE PRISONS!
LONG LIVE ANARCHY!

ANARCHISTS IN SOLIDARITY WITH THE PRISON STRIKE AGAINST SLAVERY

in German