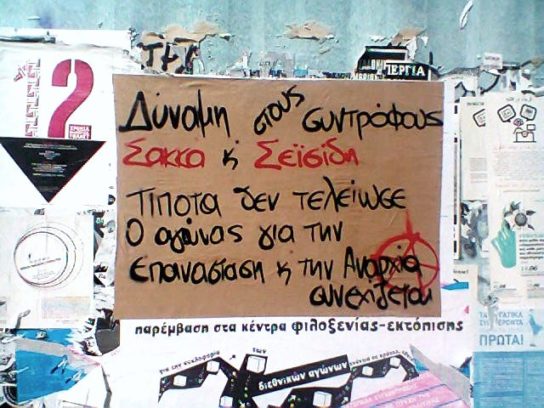 On August 17th 2016, Kostas Sakkas and Marios Seisidis stood trial in Athens concerning the circumstances of their arrest in Sparta (August 4th).
During the trial, which lasted several hours, there was a constant presence of comrades in solidarity with Marios Seisidis and Kostas Sakkas, who stated to the court that they are anarchists and explained their reasons for becoming fugitives from the law. Both denied the charges and exposed the lies of the prosecution witnesses (three cops). The prosecutor stated that, based on the beliefs of the two accused alone, there is sufficient evidence that they committed a punishable act. Marios Seisidis was sentenced to 32 months in prison for using forged ID card and vehicle registration plates, stealing a vehicle and resisting authority; Kostas Sakkas was sentenced to 33 months for the same offenses, and also received a 200 euros fine for traffic violation.
Kostas Sakkas is now held in Koridallos prison (Athens), and Marios Seisidis is currently incarcerated in Malandrino prison (Phocis).