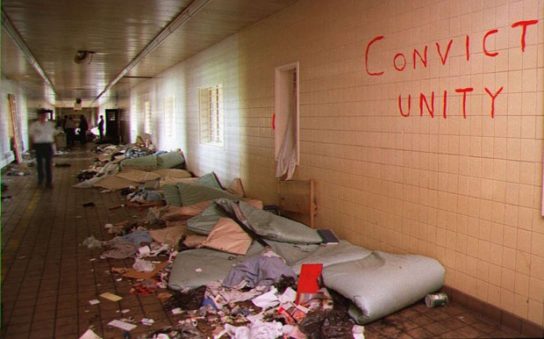 On September 9th [the 45th anniversary of the Attica prison rebellion], prisoners across the United States will begin a strike that will be a general work stoppage against prison slavery. In short, prisoners will refuse to work; they will refuse to keep the prisons running by their own labors. Prisoners are striking not just for better conditions or changes in parole rules, but against prison slavery. Prisoners state that under the 13th Amendment which abolished racial slavery, at the same time it allowed human beings to be worked for free or next to nothing as long as they were prisoners. Prisoners see the current system of prison slavery to thus be a continuation of racial slavery, which is a system that generates billions of dollars in profits each year for major corporations in key industries such as fossil fuels, fast food, banking, and the US military.
Soon after the passing of the 13th Amendment, many former slaves were soon locked up in prisons on petty offenses, quickly returned to their former roles as slaves. Over a century later, the Drug War sought to deal with the growing unemployment rate brought on by changes in the economy (outsourcing, financialization, deregulation, etc.), as well as the threat of black insurrection which grew in the 1960s and 70s, by throwing more and more people in prison. At the same time, the state and corporations continued to look towards prison labor as a source to generate massive profits.
Due to all of these factors, at the present time round 1 in 100 American adults is locked behind bars, and many more are on probation, parole, house arrest, or in immigrant detention facilities. While African-Americans, Native, Latino, and poor whites make up the bulk of the prison population, black, brown, and red convicts make up much a higher percentage of inmates than their white counter-parts. For instance, there are currently more African-American people locked within the prison industrial complex than were held in racialized slavery prior to the American civil war in the 1860s. It is in this climate that prison rebels have organized themselves to carry out the strike.
It is also important to state that September 9th is being called by a wide variety of groups, but in general comes out of such organizations such as the Free Alabama Movement (FAM), which is a self-organized prison group that has spread to states across the US. Anarchists have played a key role in supporting this organizing, and the various hunger strikes, work strikes, and prison riots which have also broken out in facilities such as Holman Prison. Support has come from various prison groups, Anarchist Black Cross (ABC) Chapters, and the Incarcerated Workers Organizing Committee (IWOC), a section of the IWW, which currently has about 1,000 members across the US in prison. To help build capacity around the strike, anarchists have also organized several conferences and carried out a wide variety of actions, from noise demonstrations, to banner drops, to graffiti campaigns.
But we need the help of the international anarchist movement to build this momentum. We are calling on comrades across the world to help us. We are asking all groups, federations, unions, networks, cells, and individuals to consider taking action, organize an event, and spread the strike. Ideas for actions are as follows:
1.) Organize a demonstration outside a US embassy, military base, or US government outpost. Let them know that people across the world are in solidarity with the strike.
2.) Organize a noise demonstration outside of a local jail, prison, detention facility, or juvenile hall.
3.) Organize an action that draws a connection to the corporations that makes money off of prison labor in the US. Worldwide targets include McDonald's and Wendy's fast food chains, Starbucks coffee chain, BP (British Petroleum), Victoria's Secret lingerie stores, American Airlines (which flies into many international airports), and many more.
[While almost every business in America uses some form of prison labor, here are just a few more of these companies: Avis, Walmart, Microsoft, Nike, Nintendo, Honda, Pfizer, Whole Foods, Aramark, AT&T, Sprint, Verizon, Fidelity Investments, Saks Fifth Avenue, JCPenney, Kmart, Macy's, and of course UNICOR, the corporation created and owned by the federal government to oversee penal labor.]
4.) Drop banners, write graffiti, wheat paste flyers, and get up news of the strike around your town.
Lastly, we will add that the strike will begin on September 9th, and will go for a long time. Prisoners are already expecting to face repression, and some organizers have already been place in solitary and harassed by the FBI. It is up to us to have their backs on the outside and build support for the strike and make it part of struggles everywhere. Strike will not end on September 10th, but continue, so help us prepare for the long haul.
Long Live Anarchy!
Fire to the Prisons!
Free everyone!
*
More information, updates and organizing materials:
Support Prisoner Resistance – supportprisonerresistance.noblogs.org
Free Alabama Movement – freealabamamovement.wordpress.com
IWW Incarcerated Workers Organizing Committee – iwoc.noblogs.org
IT'S GOING DOWN – itsgoingdown.org
Portland ABC – pdxabc.org
Anti-State STL – antistatestl.noblogs.org
325 – 325.nostate.net/tag/prison-labour-strike