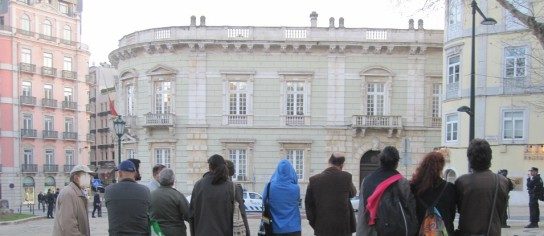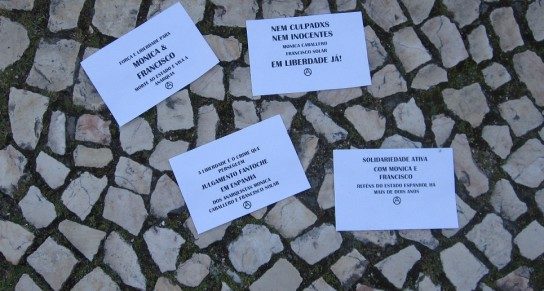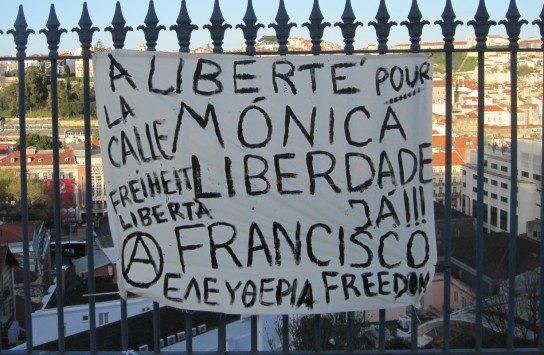 On March 24th 2016, at about 17:30, a gathering was held outside the Consulate General of Spain in Lisbon to protest the parody trial against Mónica Caballero and Francisco Solar, anarchists held captive by the Spanish State since November 2013. The gathering was attended by nearly two dozen antiauthoritarians and anarchists. Texts and leaflets were distributed to passersby, and comrades shouted slogans such as "Neither guilty nor innocent", "Freedom is the crime they're persecuting", "Freedom is inside our hearts; fire to all prisons", "Parody trial, state terrorism in Spain."
About three hours later, flyers were dispersed in another area of Lisbon – what was repeated for several days in various squares of Lisbon, until March 30th. That day it also became known that the comrades were sentenced to 12 years in prison each.
In total, several hundred flyers and handouts were distributed to passersby and at various spaces of anarchist or antiauthoritarian culture.
A banner was placed in a tourist area of the centre of Lisbon, reading "Freedom for Mónica and Francisco" in Portuguese, Spanish, Greek, German, Italian, French and English.
Neither guilty nor innocent:

simply

anarchists.
Strength and freedom to Mónica and Francisco and all prisoners and prosecuted in struggle!
Until the last cage is empty…
Death to the State and long live Anarchy!