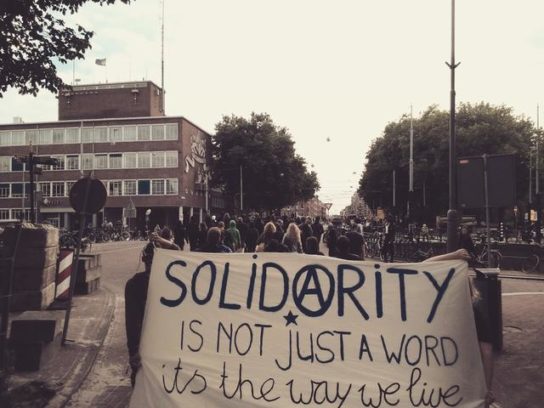 Received July 9th 2016:
Last night we demolished 8 ATM machines in The Hague, the Netherlands in solidarity with the anarchist comrades accused of expropriation in Aachen, Germany.*
On July 6th, a comrade was arrested in Amsterdam and is now in jail awaiting extradition to Germany.
The week before, on June 30th, another comrade from Spain was extradited to Germany.
We call out to anybody to take action in solidarity with the imprisoned comrades! We are fucking angry!
We are not interested in knowing whether the comrades are actually responsible for the bank robberies or not. Expropriation is an ethically just and politically legitimate practice, a method of struggle that is part of the history of all revolutionary movements. Indeed, despite the constant attempts by Power to reduce this method to within the scope of a 'common crime' motivated by individual greed, the fact is that the expropriation of places of accumulation of capital is a constant in our history: from the anarcho-syndicalist groups in the early twentieth century who robbed banks to support strikes or help the families of imprisoned comrades, to the various autonomous groups of the 70s and 80s.
Immediate freedom for our comrades! Burn all prisons! Destroy all banks!
via Indymedia NL & Autonomen Den Haag
* Note of Contra Info:
In July 2015, a comrade was arrested at the Greek-Bulgarian border, accused of a bank expropriation that took place in Aachen in 2013. After spending 5 months in pretrial detention in Germany, she was released with charges dropped. However, the prosecution appealed that decision. The comrade was rearrested in Amsterdam a few days ago, pending trial. She's threatened with extradition to Germany. Updates: Solidariteit.noblogs.org
In April 2016, another comrade was arrested in Barcelona, accused of a bank expropriation that took place in Aachen in 2014. She has already been extradited to Germany awaiting trial. She's incarcerated in Cologne's prison, held in isolation, allowed out to the prison yard only for an hour per day, and her communications with the outside world are highly restricted. Updates: Solidaritatrebel.noblogs.org
in italian