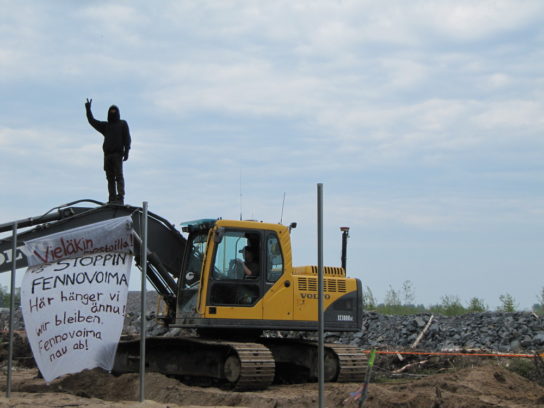 Received April 30th:
Repression against the opponents of Fennovoima-Rosatom nuclear power plant project continues: and it's getting worse and worse. On Friday 29.4. two protest camp sites got evicted in Pyhäjoki, Finland. Police operations were, on a Finnish scale, massive. Not big. Massive. Present were roughly 20 police vans, officers in riot gear, border patrol's helicopter, sections from both national SWAT teams, dog units and specially equipped riot vans.
Police declared the eviction of both camp sites by presenting a legally vague, written police order without even specified locations of the camp sites or other information. Just an order to leave and a deceleration that police will arrest everyone "under the police law" it considers to "be connected to locations" or "able to disrupt public order".
Majority of protest campers and Reclaim the Cape action week participants grouped up and vanished into the forests without negotiating with the police.
As we speak, both sites are being emptied of infrastructure and belongings. Comrades are being searched and picked from the woods. Those detained are being helped and awaited outside the cells. New campsite is under construction, but no public.
Thursday 28.4. several participants did a classical non-violent lock-on blockade against the Fennovoima-Rosatom construction. After several hours of blocking, police arrived but soon lost interest in the blockade, and instead advanced towards the action week camp. After police had forcefully taken over the campsite, 11 are still arrested after detention, eight of them international comrades. Some of them under a threat of imprisonment. So far charges are about "aggravated sabotage", "participating in violent riot" and "(violently) assaulting of a police officer".
One comrade is still hospitalised and in a severe condition, apparently due to been assaulted by police.
As per usual, majority of mainstream media have not taken interest to be neutral or professional. Systematic defaming against the Fennovoima-Rosatom opponents is being carried out especially on behalf of YLE Oulu's (local department of national broadcast service).
As per usual, we shall not bend our heads when confronted by state repression and physical violence. This police operation was the third large-scale operation against the Fennovoima-Rosatom opponents within four days. The sheer volume of police and state resources that have been put to work against us tell a simple story: we have been able to considerably harm Fennovoima-Rosatom and cross the line from inconvenient to possibly dangerous. Alongside, we have managed to spark up a culture of resistance not seen in Finland since the civil war on 1918: which undoubtedly has spooked those in power.
If there never was a time to invite every possible comrade to participate in this struggle: this is the time to call out for practical solidarity. In our hour of need we call for support for the arrested and to builders and defenders of the new campsite here at Pyhäjoki – and to join the struggle by giving Fennovoima-Rosatom what its asking for. With deep respect for a diversity of tactics, we encourage everyone to present this company and every firm connected to it with feedback: and to present Finnish embassies and local police representatives with their share.
Solidarity is a verb. Practice it. We call everyone everywhere to remember your captivated and wounded comrades here up north.