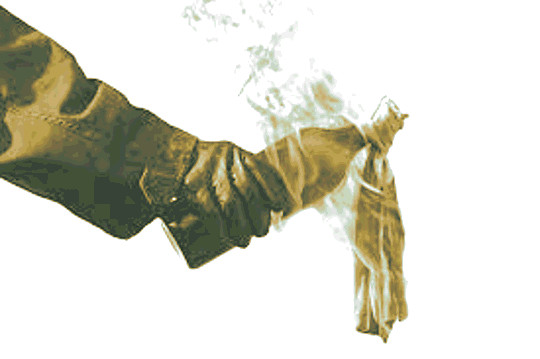 On the night of Tuesday 26th [April], we attacked a police station with Molotov cocktails.
We won't lie to you any longer.
We've had enough.
Fed up of being sold that "it'll be better tomorrow".
Fed up of waiting for the social movement.
Fed up with the dreary and sad "see you next week".
Fed up of the spectacle of dissent where fear sinks into our stomachs and resignation into our heads.
Fed up of watching on the internet "there where it kicks off" or to masturbate over the clashes filmed and posted on youtube.
Fed up of going 600km for a riot.
We'd call it a new sport. Or even worse. A new craftsmanship.
Professional rioters of the social movements.
Looks cool on an activist CV.
Fed up of just throwing two cans, or putting a bin in the road and getting gassed, counting as a victory.
Fed up of pretending to be happy when nothing's happening.
Fed up of pretending that we agree.
Fed up of pretending that we give a shit about the El-Khomri law.
We didn't wait for the indignated 2.0 to spend some up all nights.
Have to say it how it is.
We are impatient.
We don't understand why we should schedule an appointment with Power to challenge it, surrounded by ever more uniforms and cop-pacifists.
We did this for the pleasure.
We did this to mark a rupture.
Because we are happy and angry at the same time.
We no longer want to be there where we are expected.
We want to send a double combative hug.
First to Mónica and Francisco in Spain.
Next to comrades from Brussels who are also experiencing repression for terrorism.
Our solidarity is attack, our crime is freedom.
See you soon.
Source: IAATA | in Spanish, Italian, Portuguese, Greek