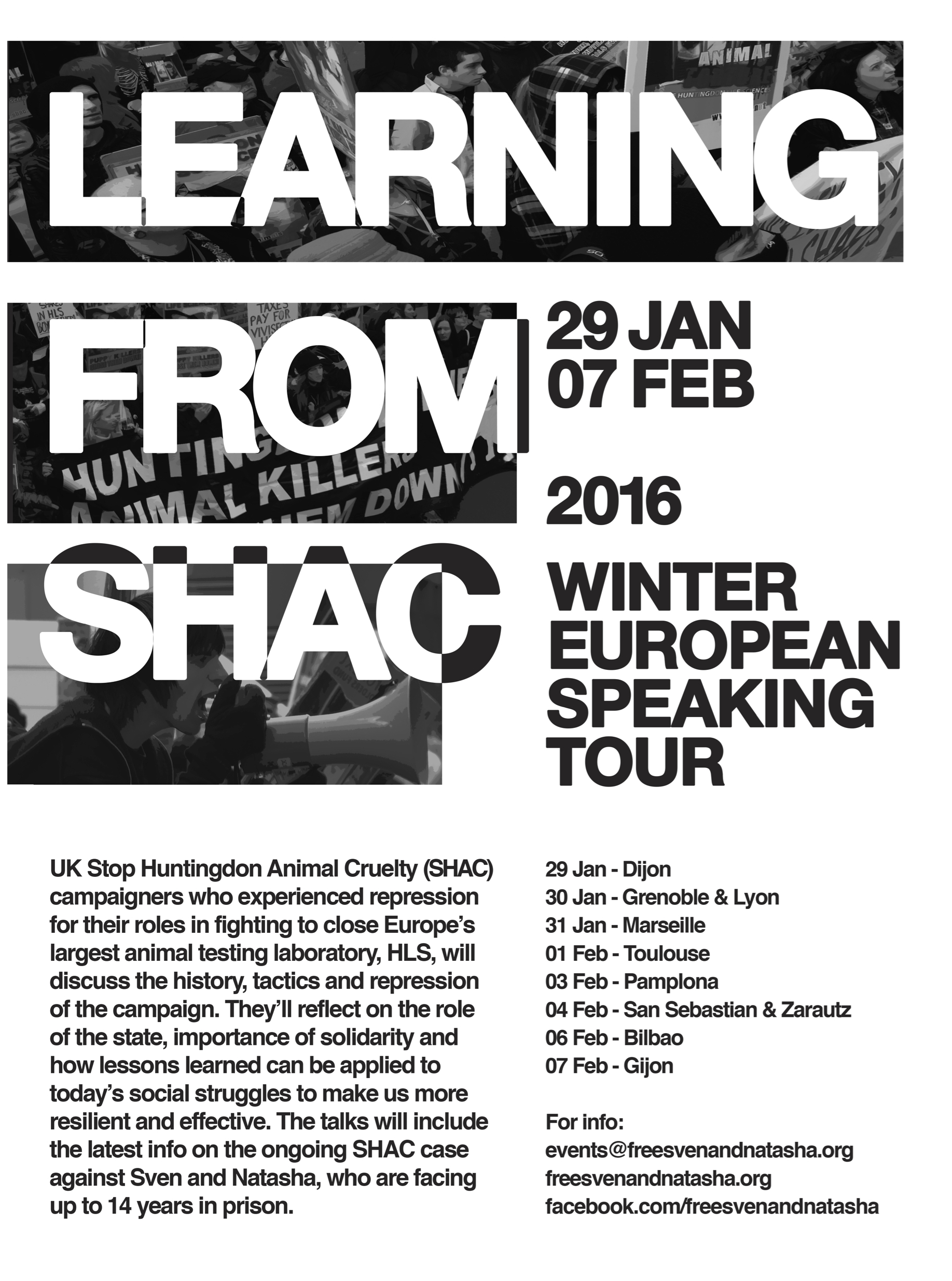 We are pleased to announce our Winter European Speaking Tour across France, the Basque Country & Spain.
Friday 29th January – Dijon | 7pm | Eternel Detour, 16ter rue de Fontaine-lès-Dijon, Dijon
Saturday 30th January – Grenoble | 12pm | Parpaing Paillette, 104 avenue Ambroise Croizat, Saint Martin D'here
Saturday 30th January – Lyon | 8pm | l'Atelier des Canulars Canulars Workshop, 91 rue Montesquieu, Lyon
Sunday 31st January – Marseille | 7pm | Le Raccoon, Place du Lycée Thiers, Marseille
Monday 1st February – Toulouse | 5.30pm | Self-managed Social Centre of Toulouse (CREA)
Wednesday 3rd February – Pamplona | 6pm | Iruñeko Gaztetxea, Konpania Kalea, 3, Pamplona
Thursday 4th February – San Sebastian | 12pm | EHU Gipuzkoako Kanpusa, Donostia
Thursday 4th February – Zarautz | 8.30pm | Putzuzulo, 20800 Zarautz
Saturday 6th February – Bilbao | 5pm | Izar Beltz Social Centre, Bilbao
Sunday 7th February – Gijon | 5pm | Centru Social La Llume. C/Nava 1 (Esq. Avenida de Portugal), Xixón, Asturies
About the Talks
Stop Huntingdon Animal Cruelty (SHAC) was the most powerful and effective international grassroots animal liberation campaign the world has ever seen. After more than a decade of using innovative and groundbreaking activism against Europe`s largest animal testing laboratory HLS, the campaign finally ended in 2014, following years of state repression and the imprisonment of dozens of activists.
This presentation will analyse and critically reflect on the history, tactics and repression of the SHAC campaign. It will look at the importance of SHAC and what can be learned from the successes and failures of the campaign. There will be discussion of the use and effects of repression on the animal liberation movement and how this is affecting our activism today. We will learn about the importance of solidarity and understanding the role of the state when fighting dominant industries and how we can work differently to make our activism more sustainable and resilient to repression in future. The presentation will include the personal stories of one of the SOCPA7 defendants and an ex-prisoner from one of the earlier Conspiracy to Blackmail cases.
There will also be information on the ongoing SHAC case against Sven and Natasha, who are currently waiting to be extradited to the UK for their trial and face up to 14 years in prison.
For more info:
events[at]freesvenandnatasha[dot]org
freesvenandnatasha.org