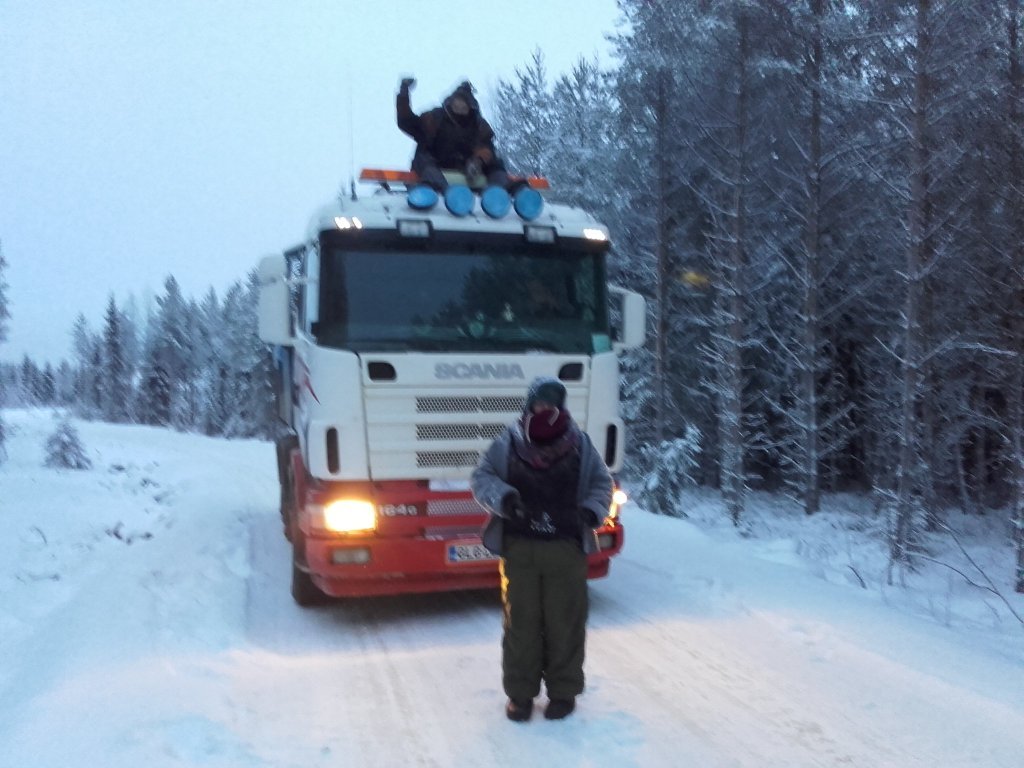 Received January 24th:
In mid-January Fennovoima-Rosatom announced that their geopolitically and environmentally funky plan to build this Putin's own little western nuclear power plant is running and sticking with set timetables "just as planned". Well. How to put this nicely and in a constructive manner? (And on second thought: why should we even bother to try?)
It's naturally easy for one to say that things and timetables are advancing "just as planned" – when every single time something fails, delays and in general fucks itself up this creative conglomerate simply deletes the original date and copy pastes in a new one. (I mean, it isn't strictly lying, isn't it: to promise that one will stick with a timetable?) Everybody's happy – and especially those Finnish tax payers, that's for sure!
Let's give you guys a couple of examples. During spring 2015 Fennovoima-Rosatom announced that the fencing surrounding and locking up the area of this planned nuke plant of doom would be perfectly finished on May 2015. Well, despite the hard working of the Lithuanian cheap labour shipped in they had almost finished erecting it on September 2015. On a similar tone the work for the planned harbour of this plant of doom – deep enough to offer nesting space for any given Russian warship, believe me – was declared to start on June 2015. Some brave words about "hundreds of workers" earning their bucks around the site during that summer were also mentioned.
Well, they almost got that one right, too. Almost. In that June 2015 Fennovoima-Rosatom did not even have the needed permissions to start even the dredging works – with that one they only could move on at September 2015. The harbour work itself is still just words on a paper, as are the mentioned brave words about "hundreds of workers" – I bet we all know how they like to pretend these projects are always just about "creating jobs".
What is now been done at the Hanhikivi Peninsula are the infamous "preliminary" or "preparing works", groundlaying and stone setting that, unlike the nuke plant of doom itself, do have a permission to proceed – thanks to a certain Minister wined and dined well in Moscow (try asking him about these trips in an interview and oh man, there's a blush) and a few carefully commissioned municipality characters. Building permit for the plant itself, then again, is another story: Fennovoima-Rosatom has not even filed for it yet. The application for the permit is still work under construction. (Yes, I repeat: they are laying the "preparing works" before anyone's even bothered to apply for a building permit for that nucleat power plant – but surely there's no corruption in Finland and everything's done by the book, as always?)
The beauty of the current situation is the vulnerability of the construction site itself. What's been done there now is a big-scale landfill operation – and there's only one road sturdy enough to carry those big-ass vehicles in and out of the site. So imagine what happens when someone by some mens brings that road to a halt? Well. The whole shit stops from rolling.
And that's what we did on 22th of January. Some concerned citizens climbed on to trucks doing the deliveries, putting it all to a total halt. And we think we're gonna keep on doing this for a bit longer. More info coming in later, as per usual.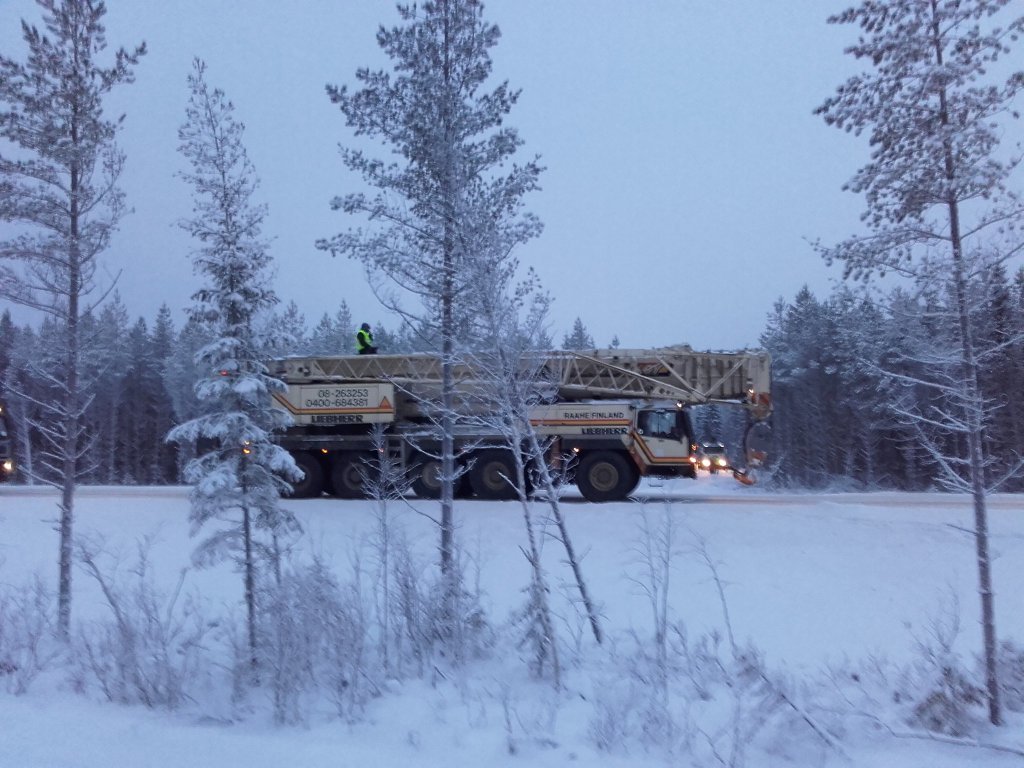 10:30 AM police had detained both of our photographers from the scene. One was following the unrolling event from the forest side of things and another about 50 metres away from the event site, standing at a side of a public bicycling road. Conclusion: they do like censorship in here, and they do not like to end up in social media.
11:30 AM more police cars and another cherry picker were brought in. Soon after the protestor sitting on top of a truck was taken down and detained.
12:30 PM one protestor is still at it. He has lingered into the structures of the crane vehicle and refuses to come out. Around 11 AM police gave an ultimatum: "come out voluntarily or we will have to hurt you". They started driving the vehicle on walking speed to a parking spot at the roadside and killed the engine. Police has grabbed gloves and some other pieces of clothing from the protestor, trying to literally freeze him out. it's currently -5C out here, plus the lovely sea breeze.
1 PM The police arrived to the site from 10 AM on. Approximately 10.15 AM a selection of more high-ranking Fennovoima-Rosatom boss representatives arrived: white helmets and sparkling clean high-vis clothes that haven't seen a day of work gathered to have a pow-wow with the police. At 10.30 AM a humly saying expensive looking SUV arrived, spitting out a grumpy and confusing fella with civi clothes and a big "ROSATOM" -text at the back of his jacket: maybe he was just confused that protestors are not simply being shot or taken out by proper OMON troops?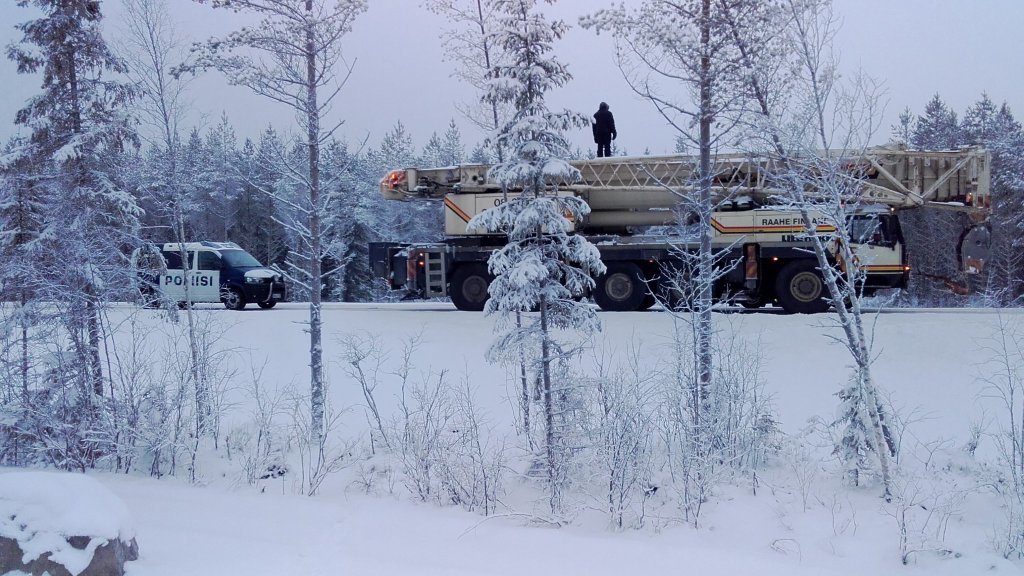 Summary in German