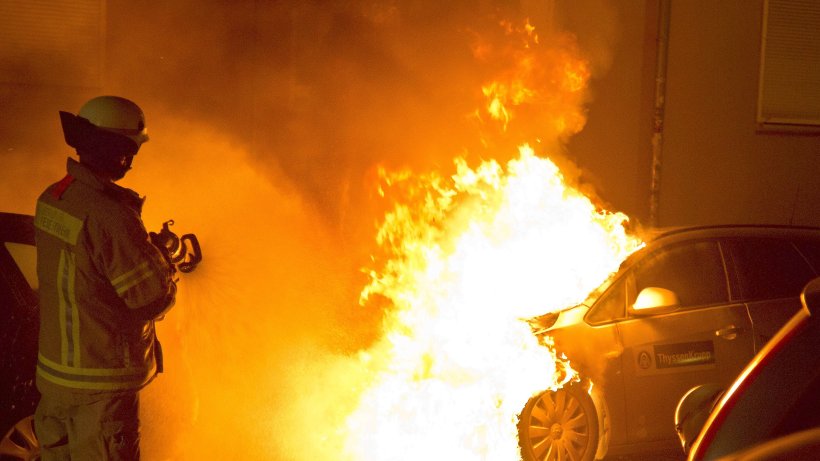 Black December burns in Berlin's ThyssenKrupp
«We are in the process of a qualitative upgrade of the "civilised warfare," where one's happiness coexists with the torment of another . . . Within this environment, anarchy acquires a strategic possibility to set fire to all forms of political representation, to become a front of open unorthodox war with domination, which will turn the diversity and pluralism of viewpoints within the anarchist community into an advantage and bring the oppressed – those who decide to break the chains of their submission – together at centres of struggle created. . . .
A month of coordinated actions in order to know one another, take to the streets and smash the displays of department stores, occupy schools, universities and city halls, distribute texts that will spread the message of rebellion, place incendiary devices against fascists and bosses, hang banners on air-bridges and main avenues, flood the cities with posters and flyers, blow up houses of politicians, throw Molotov cocktails at cops, tag the walls with slogans, sabotage the smooth flow of merchandise amid Christmas, loot the displays of abundance, carry out public activities, and exchange experiences and rationales around various topics of struggle.
To meet one another in narrow urban streets, and paint on the ugly buildings of banks, police stations, multinationals, military camps, television studios, courts, churches, charitable corporate groups with ashes. . . .
B l a c k D e c e m b e r does not seek merely to become some days of rioting; instead, what we want is to create – through multiform and multilevel anarchist action – an informal coordination platform on the basis of which the subversive impulse will be brought together; a primary attempt for an informal coordination of anarchy, beyond the predetermined frameworks, which aspires to build on this particular experience of struggle so as to set both subversive proposals and fighting strategies in motion. . . .»
wrote Nikos Romanos and Panagiotis Argirou weeks ago from the prisons where they are being held.
The balance sheets of 2015 look shiny for the big armaments corporations; a win-win situation has arisen for the industry, with the participation of the German Federal Navy in the EUNAVFOR Med and the entry into the war in Syria. They will get earnings from military goods wear and tear and consumption in a civil war, and simultaneously profit from combating refugees.
To restrain the unhindered expansion of these (armaments) corporations may constitute a strategic component of calls such as that of Black December; this is why, in the early hours of December 29th, we destroyed a ThyssenKrupp vehicle by fire in Berlin's neighbourhood of Friedrichshain.
This action, framed in the context of Black December, is dedicated to fighters of words whose texts may contribute to arsons all over the world, solidarity circles who are fighting for the survival of prisoners, and refugees with whom we'll jointly smoke out the minions of the European Union in the Mediterranean Sea, along the fences of Calais or the Spanish enclaves, and in their air-conditioned offices in metropolises.
Informal pyromaniac conspiracy