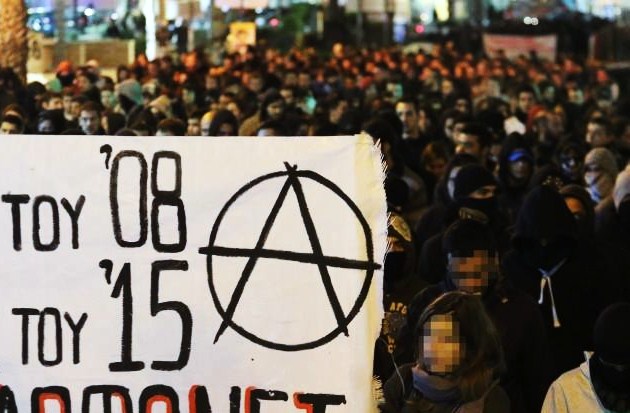 December 6th demonstrations marking the seventh anniversary of the killing of Alexandros Grigoropoulos were held in various Greek cities, such as Thessaloniki, Komotini, Ioannina, Karditsa, Lamia, Volos, Larissa, Trikala, Agrinio, Patras, Kalamata, Heraklion & Rethymno (Crete Island), Mytilini (Lesvos Island), and central Athens, but also in Limassol, Cyprus.
The main banner in Trikala read: "Onward for an indefinite Black December – Because no December is ever finished (A)CAB".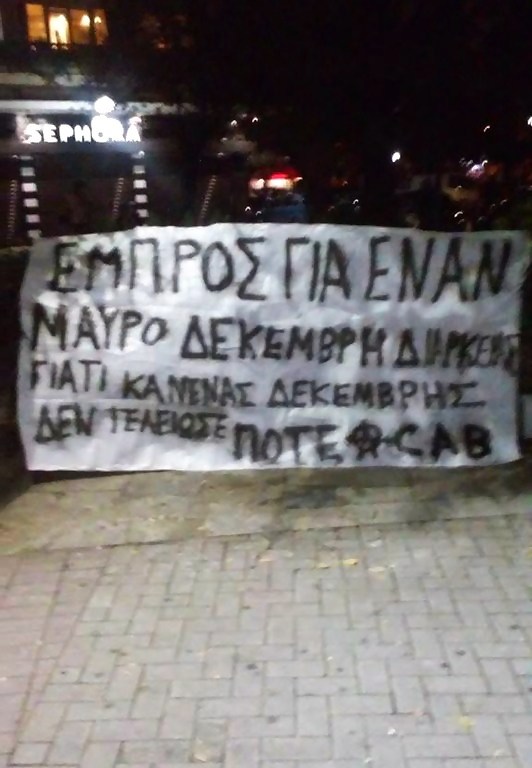 One of the slogans chanted in Mytilini was: "Koumis, Kanellopoulou, Michalis Kaltezas, Alexis Grigoropoulos, this is Hellas," in reference to young people who lost their lives at the hands of Greek police (the university student Iakovos Koumis and the worker Stamatina Kanellopoulou were killed by cops in November 1980; their skulls were crushed by savage beatings).
Late evening rioting occurred in cities such as Komotini, Agrinio, Volos, Kalamata, and Heraklion, while a third night of clashes in Exarchia lasted for several hours.
Footage from Athens / Exarchia:
Footage from Komotini, northern Greece: