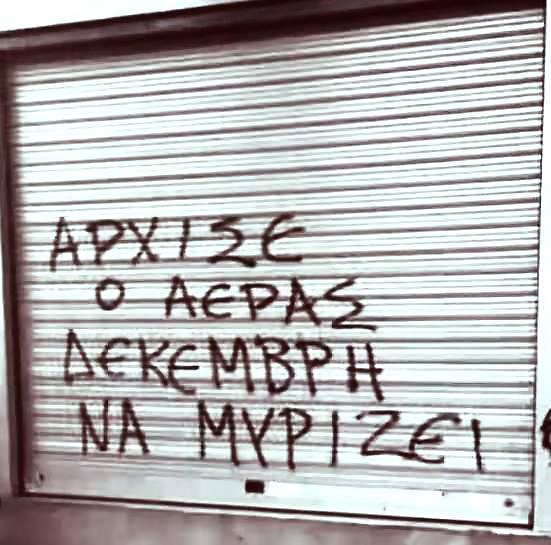 We claim responsibility for the incendiary attack against the Hellenic Post (ELTA) branch in the district of Pefki [in the early hours of November 23rd]. Anarchist prisoners, currently on trial in the terror-court of Koridallos prisons for a series of cases of anarchist violence, are also accused of committing robbery at this branch, that's why we made sure it went up in flames, to send them a symbolic message of solidarity in view of the court decision.
This particular attack is our response to the call for a 'Black December' launched from inside prisons by our captive brothers Nikos Romanos and Panagiotis Argirou.
The political rationale of this specific proposal – one we entirely support – stands for an open wager for reinitiating the anarchist insurgency, and attempting to create an informal platform that may become an invisible point of encounter and coordination between comrades in every trench of multiform anarchist struggle.
Not much else to say at the moment; now is the time for action, for constant and ceaseless multiform struggle.
Strength and complicity to the arsonists who set fire to social peace and sabotage the social normalcy in Brazil, Chile, Mexico, spreading Black December in every corner of the world.
Strength and complicity to those who will take to the streets seeking to vandalise representations of domination, throw stones at cops and burn symbols of Power.
Strength and complicity to all anarchist prisoners in every corner of the world.
Solidarity means attack!
For a Black December!
For the anarchist offensive against the world of Power!
Combative Anarchy/Informal Anarchist Federation (FAI-IRF)
Source: Athens IMC