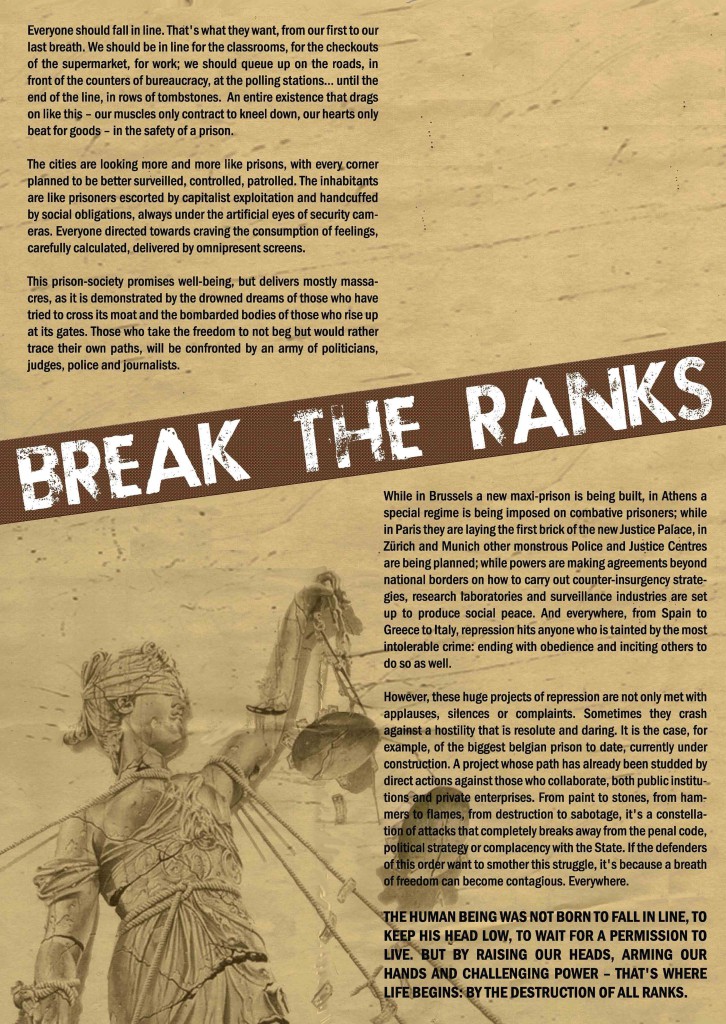 Download the poster here in PDF (A2 format)
Everyone should fall in line. That's what they want, from our first to our last breath. We should be in line for the classrooms, for the checkouts of the supermarket, for work; we should queue up on the roads, in front of the counters of bureaucracy, at the polling stations… until the end of the line, in rows of tombstones. An entire existence that drags on like this – our muscles only contract to kneel down, our hearts only beat for goods – in the safety of a prison.
The cities are looking more and more like prisons, with every corner planned to be better surveilled, controlled, patrolled. The inhabitants are like prisoners escorted by capitalist exploitation and handcuffed by social obligations, always under the artificial eyes of security cameras. Everyone directed towards craving the consumption of feelings, carefully calculated, delivered by omnipresent screens.
This prison-society promises well-being, but delivers mostly massacres, as it is demonstrated by the drowned dreams of those who have tried to cross its moat and the bombarded bodies of those who rise up at its gates. Those who take the freedom to not beg but would rather trace their own paths, will be confronted by an army of politicians, judges, police and journalists.
While in Brussels a new maxi-prison is being built, in Athens a special regime is being imposed on combative prisoners; while in Paris they are laying the first brick of the new Justice Palace, in Zürich and Munich other monstrous Police and Justice Centres are being planned; while powers are making agreements beyond national borders on how to carry out counter-insurgency strategies, research laboratories and surveillance industries are set up to produce social peace. And everywhere, from Spain to Greece to Italy, repression hits anyone who is tainted by the most intolerable crime: ending with obedience and inciting others to do so as well.
However, these huge projects of repression are not only met with applauses, silences or complaints. Sometimes they crash against a hostility that is resolute and daring. It is the case, for example, of the biggest Belgian prison to date, currently under construction. A project whose path has already been studded by direct actions against those who collaborate, both public institutions and private enterprises. From paint to stones, from hammers to flames, from destruction to sabotage, it's a constellation of attacks that completely breaks away from the penal code, political strategy or complacency with the State. If the defenders of this order want to smother this struggle, it's because a breath of freedom can become contagious. Everywhere.
The human being was not born to fall in line, to keep his head low, to wait for a permission to live. But by raising our heads, arming our hands and challenging power – that's where life begins: by the destruction of all ranks.
Poster also available in Italian, French, Greek and German
from Break the ranks.